Visiting the Dalai Lama Institute for Higher Education
|
Bengaluru, India – The last engagement of His Holiness the Dalai Lama's current Indian tour was a visit to The Dalai Lama Institute for Higher Education (DLIHE). Early this morning, under skies that were clearer than they have been for some days, he drove out of Bengaluru city to the Institute at Sheshagrihalli on the Mysore road.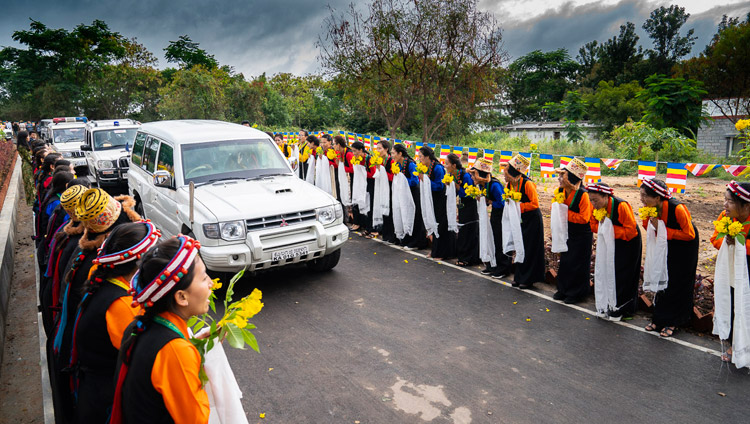 He was welcomed by women singing and was offered the traditional Tibetan 'chema changphu' as he arrived. Escorted into the new Men's Hostel block, he was invited to unveil a commemorative plaque to mark its inauguration. He greeted members of the boards of the Staub Kaiser Foundation and the Giuseppe Kaiser Foundation of Switzerland that have supported the construction.
In the Institute's Office His Holiness met with 23 Geshes who have been studying English and Chinese intensively with the support of the Dalai Lama Trust. Sitting down with them he first asked which monasteries they belonged to, how many had been born in Tibet and where.
"Over the last 60 years we've had new experiences," he told them. "In Tibet we studied according to the instructions first laid down by Shantarakshita who Trisong Detsen invited to Tibet in 8th century. Followers of the Pali tradition rely on citing the authority of the scriptures when they explain the Four Noble Truths and their attributes. This is what a group of Thai scholars I met recently told me. In contrast to this, our tradition, which originated at Nalanda University, follows the path of those with sharp faculties by relying on reason. We have inherited this wonderful tradition due to the kindness of Shantarakshita and the hard work of the religious kings.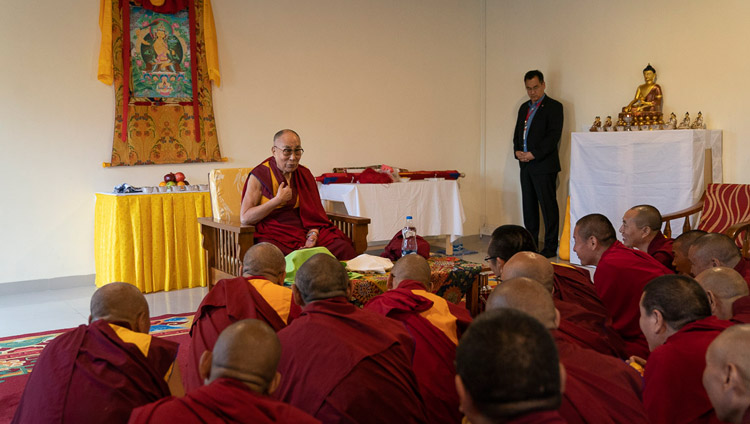 "These days we have been holding discussions with modern scientists. When we talk about quantum physics they appreciate our explanation of dependent arising. We too have learned from them. The scientific view of cosmology, for example, leaves no place for Mt Meru. We have also followed Nalanda masters in examining whether teachings of the Buddha should be taken literally or classed as interpretable.
"When I first thought about engaging scientists in discussions, a Western friend warned me to be careful saying, 'Science is the killer of religion'. I then considered the Buddha's advice not to take what he taught at face value, but to examine it as a goldsmith tests gold and decided there wasn't much risk. However, when I suggested that monks learn English and science as part of their curriculum, there were senior monks in the monasteries who were initially concerned that it would distract them.
"Learning other languages as you are doing is important. It's a way for you to serve others. In our prayers we say, 'I generate bodhichitta and call upon all sentient beings as my guests…', but we need to do something practical as you are doing.
His Holiness walked out to the amphitheatre that stands in the midst of the Institute's buildings where an estimated 6000 people had gathered. He stopped to greet some people and comfort others who were sobbing, overwhelmed by the opportunity to be so close to him. As usual, His Holiness took time to greet the crowd from the front of the stage before he sat down.
In her summary report, Principal Dr B Tsering welcomed His Holiness as well as the former Vice-Chancellor of the University of Mysore, Prof R Rangappa, and the Vice-Chancellor of the University of Bangalore, Prof KR Venugopal, in addition to the donors from Switzerland. She reported that so far students have been able to earn BA degrees, but plans are afoot to start an MA program, and to follow this up with BA, B Com, BCA and so forth in addition to prospects for offering PhDs and other specializations. So far 275 students have graduated from DLIHE.
The Principal also mentioned that students have the opportunity to learn about secular ethics. Meanwhile young Tibetans from abroad have been coming to the Institute to participate in intensive training in Tibetan language and culture. She concluded by voicing a wish that His Holiness live long and that all his aspirations may be fulfilled.
President of TCV, Thupten Dorjee's remarks touched on the support DLIHE has received in terms of sponsorship. He was followed by Prof R Rangappa, former Vice-Chancellor of the University of Mysore. He observed that that what distinguishes DLIHE from other institutes of higher learning is that it isn't first and foremost concerned with making money. Here, he said, students learn the art and science of living. He expressed his support for efforts to keep a high level of Tibetan in use because once the language of culture is lost, everything is lost. He offered congratulations to the Institute for what has been achieved so far.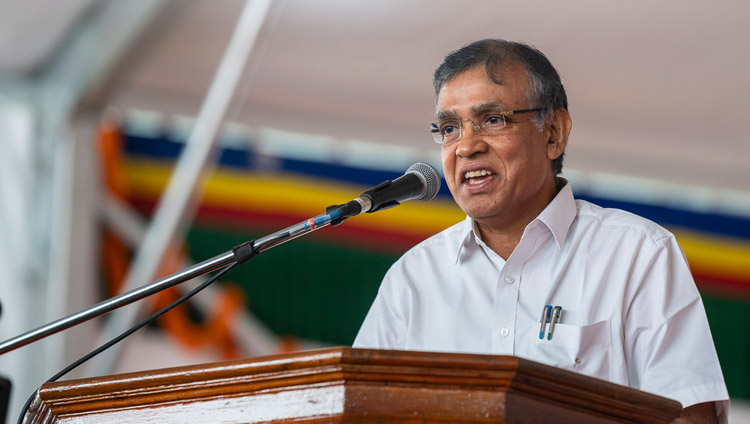 Vice-Chancellor of the University of Bangalore, Prof KR Venugopal in his turn also mentioned how honoured he felt to be in His Holiness's presence. He assured students and staff that the BA, BCA and B Com courses should be available later this year. He promised students that any problems brought to him at the University of Bangalore would be solved there and then.
"This academic Institution started from scratch, but has been steadily growing," His Holiness remarked. "Now it has become something to be proud of. These two Vice-Chancellors have assured us of their support and on behalf of the 6 million people of Tibet I would like to thank them.
"India and Tibet have unique and longstanding relations. Ordinary Indians are aware of Tibet because the sacred Mt Kailash, the abode of Lord Shiva, is there. It's a place of pilgrimage for them. For Tibetans, India is where the Buddha lived and taught.
"We've heard about the programs that are being developed and I give them my whole-hearted support.
"We are not just refugees; we are exiles from the oppression that has taken place in Tibet. We must never forget the people of Tibet, because they have no freedom and we are their representatives.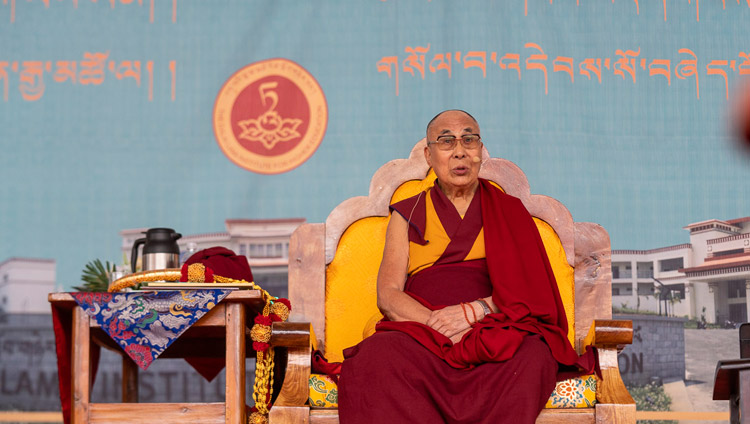 "Chinese archaeologists have found evidence of a Tibetan culture dating back 35,000 years. Visitors from Kyrgyzstan showed me a photograph of a Tibetan Mani stone that had been found on a coffin buried in their country, which indicates how far Tibetan influence extended at one time.
"When King Songtsen Gampo married a Chinese princess, she brought the Jowo statue of the Buddha with her to Tibet. I've seen the alcove in a temple in the old Chinese capital of Xi'an where it used to sit. When I was there it was also pointed out to me that in times past the Tibetan army had laid siege to the city right outside its walls.
"Chinese documents show that in 7th, 8th, and 9th centuries three distinct empires flourished: China, Mongolia and Tibet. Scholars have also told me that historical records from the T'ang to the Manchu dynasties make no mention at all of Tibet being part of China. If there were any such references, it seems they may have been made by Tibetan Lamas seeking to ingratiate themselves with the Chinese Emperor.
"Samye Monastery was set up by Shantarakshita and Padmasambhava. It was there that, under Shantarakshita's direction, translation of Sanskrit Buddhist literature into Tibetan began. This resulted in Kangyur and Tengyur we have today. Shantarakshita was not only a profound philosopher; he was also a shrewd logician. He introduced the study of both philosophy and logic to Tibetans. Some Chinese scholars have suggested that use of reason and logic is what enables Buddhists to interact so well with scientists."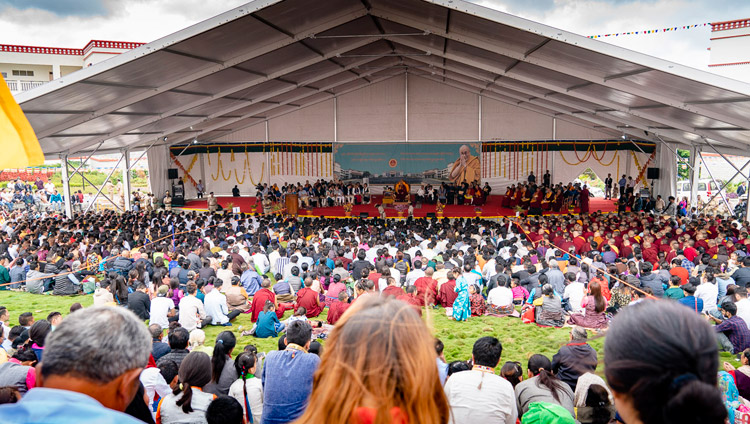 Over the last almost 70 years, His Holiness observed, Tibetans have undergone untold sufferings. Since the People's Liberation Army entered Tibet and attacked Lithang before marching on Lhasa, their records indicate that 300,000 Tibetans were killed. Having swallowed Tibet and failed to digest it, it seems that hardliners are increasingly concerned about having to regurgitate it.
Even though Tibetans in Tibet are under such oppression their spirit and determination remain strong. Whether they are Buddhists or not, they don't forget that they are Tibetan. Up to now 152 people have committed self-immolation in protest at the situation in their homeland. They could have attacked and harmed others, but scrupulously undertook only to harm themselves.
His Holiness told the audience that he'd heard that people say that while he's alive they will remain non-violent, but after that, who knows. He has appealed to them to remain non-violent whatever the circumstances. He said that he still hopes to see positive change in Tibet.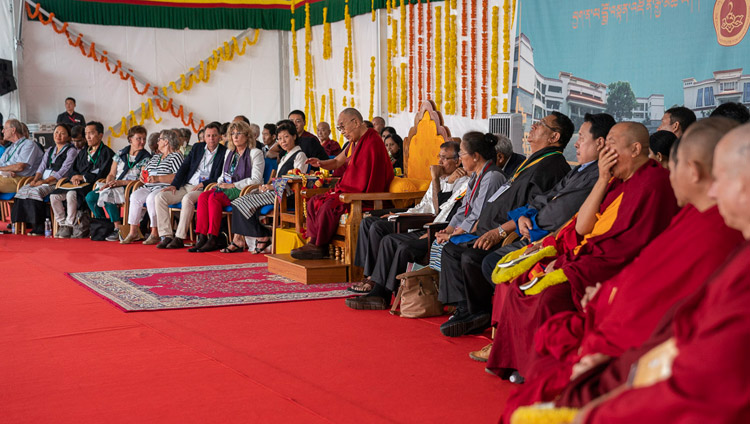 "We are a unique people with a unique culture that we have every reason to be proud of. Never forget that you are Tibetan. In the early days people worked very hard to clear the jungle here in Karnataka to enable schools and so forth to be built. The generation that re-established the Monastic Universities have virtually all gone, but the fruit of their deeds remains. In those early days they came to me to complain that it was so hot they were convinced they would die. When I came again, I was able to tease them that they were still alive after all. I told them – 'Never give up.' These days you have much better facilities, but you also have greater opportunities.
"Finally, I want to mention my latest commitment to try to revive interest in ancient Indian knowledge regarding the workings of the mind and emotions in this country. I hope this Institute may be able to play a part in this."
Dawa Tsering, Vice-Principal of DLIHE offered words of thanks, concluding with prayers for His Holiness's long life.
His Holiness then drove from the Institute directly to Bangalore airport from where he flew to Delhi. Tomorrow, he will return to Dharamsala.