Leaving the Nubra Valley and Returning to Leh July 15, 2017
|
Leh, Ladakh, J&K, India – The rising sun caught the distant hill-tops and the undersides of the clouds as His Holiness the Dalai Lama left Samstanling Monastery this morning. The monks of the monastery, some very old and some very young, gathered to see him off. Local people had swept and watered the lane from the monastery down to the main road yesterday evening. Today, many of them lined the way, incense, scarves, bunches of flowers, many of them fresh but some bright and artificial, in their hands. Most were dressed in traditional Ladakhi costume. Occasionally there was a woman holding a brimming bowl of milk, dabs of butter on the rim.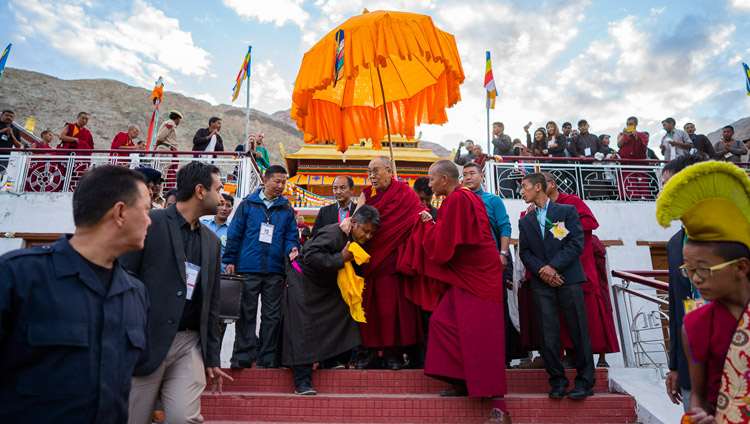 His Holiness's party sped up the empty road towards the Khardungla Pass. Shortly before reaching the top, at a place where a white Buddha statue has been installed, the party turned off the road for a break. His Holiness and his party were served tea and refreshments organized by Thiksey Rinpoche. His Holiness spoke briefly to local people who had assembled to see him, telling them how important it is to cultivate a warm heart. He gave them Avalokiteshvara's and Tara's mantras. Before setting off again, His Holiness acceded to a request to bless the source of the Shyok River that rises nearby.
At the top of the pass the party stopped again and His Holiness accepted an invitation to visit and bless the medical facility set up to cater to tourists' needs at 18,380 feet / 5,359 m on the highest motorable pass in the world. Again people flocked to catch a glimpse of him. On either side of the pass the road needs constant maintenance to keep it open as the mixture of melting ice, rocks and mud give way to minor landslides. The teams of road-workers waved as His Holiness passed. There was another impromptu stop for tea where people had made preparations to welcome His Holiness on the way down the hill.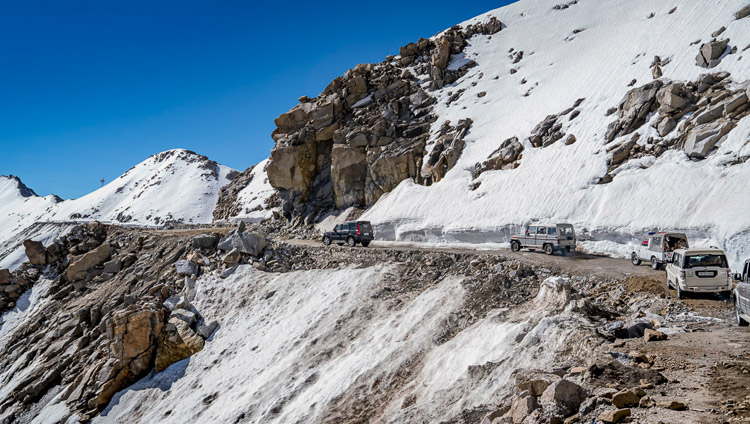 Leh can be seen in the distance from the pass and the Shanti Stupa comes into ever closer view as the road descends. As His Holiness's party drove through the town it was as if the entire population, young and old, from every community, local people and tourists from abroad, had turned out to welcome him back. Repeatedly well-wishers could be seen catching His Holiness's eye as he passed and turning to hug their companions with joy.
His Holiness reached the cool sanctuary of the Shiwatsel Phodrang in time for lunch. Tomorrow, early in the morning, he sets off for a four day visit to Zanskar.
Source: https://www.dalailama.com/news/2017/leaving-the-nubra-valley-and-returning-to-leh