His Holiness the Dalai Lama Travels to Manali
|
August 10, 2019
Manali, Himachal Pradesh, India –   After a wet night, rain continued to fall as His Holiness the Dalai Lama set off for Manali yesterday morning. Tibetans lined the road down to Dharamsala and through the town to see him off. The heavy rain kept up as His Holiness's convoy drove across the lower Kangra Valley. At Nadaun the River Beas was very full.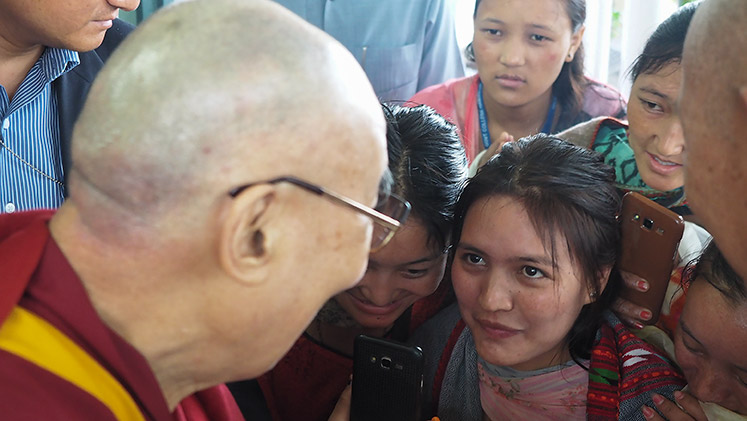 Breaking the journey at Hamirpur His Holiness was welcomed by beaming students from Kinnaur, Lahoul & Spiti. Former Chief Minister of Himachal Pradesh, Prof Prem Kumar Dhumal, lives in Hamirpur and came to greet His Holiness, who regaled him and his companions with why he is committed to reviving aspects of ancient Indian knowledge for our modern world.
The road from Hamirpur climbs the hills to pass Rewalsar, the village and lake celebrated by Tibetans and people of the Himalayan region as Tso-Pema for its association with Guru Padmasambhava. People holding silk scarves and burning sticks of incense lined the road to greet His Holiness as he passed. After Tso-Pema, as the rain eased and the sun began to come out, there was a winding descent down to Mandi. His Holiness ate lunch and retired for the day in the palace of the erstwhile Raja of Mandi that is now a hotel.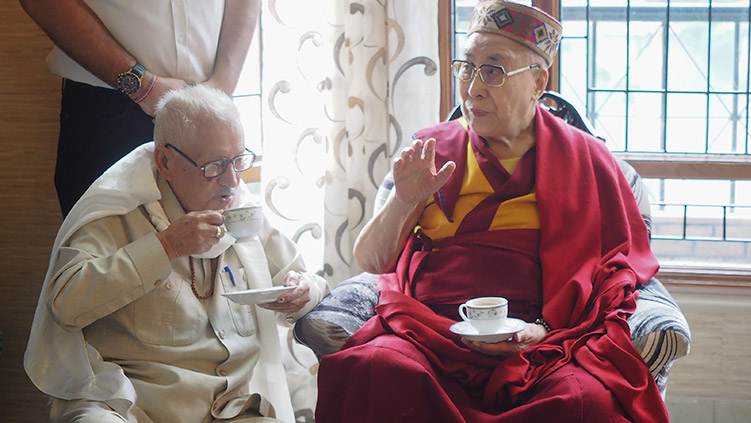 This morning, under brighter skies, a group of local Tibetan community leaders came to pay their respects to His Holiness before he set off for Manali. An old friend, who lives in Mandi, a former Deputy Superintendent of Police who served His Holiness in the '80s, invited him to visit his house on the way, which he did. His Holiness's party then took the alternative route from Mandi into the Kullu Valley, climbing over the hills, through Kataula, past the turning off for Prashar Lake and down to Bajaura. Shortly after entering the Kullu Valley, His Holiness stopped for a rest and a cup of tea.
The road follows the course of the rushing Beas River. At several points on the way welcome gates had been put up and well-wishers, Tibetan and Indian, monks, nuns, lay-people and children gathered at the roadside to greet His Holiness and catch a glimpse of him as he passed.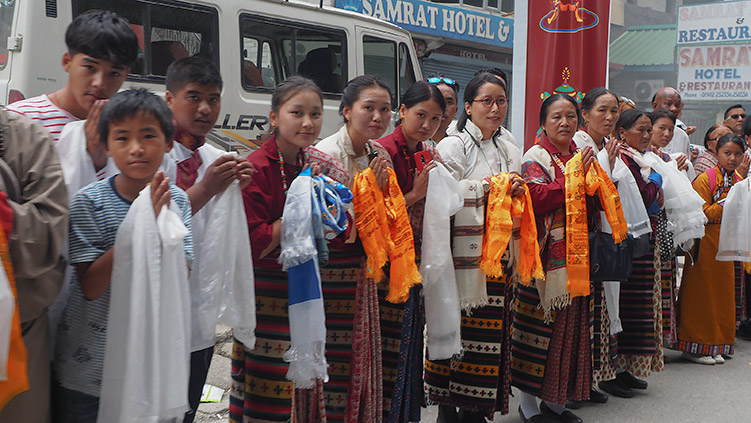 Reaching Manali, His Holiness drove directly to Ön Ngari Monastery, where the Abbot, Gomang Khensur Lobsang Samten was ready to greet him. His Holiness hugged him close. The Tibetan Representative for the Kullu Valley, Ms Tenzin Nangwa offered a silk scarf. Children presented the 'chema changpu' traditional welcome offering, while Tashi Shölpa dancers performed on the forecourt and a group of Tibetan girls sang their welcome.
Inside the temple, His Holiness lit a lamp and saluted image of the Buddha, Avalokiteshvara and so forth. Once he had taken his seat, the Abbot offered a mandala and the threefold representation of the body, speech and mind of enlightenment.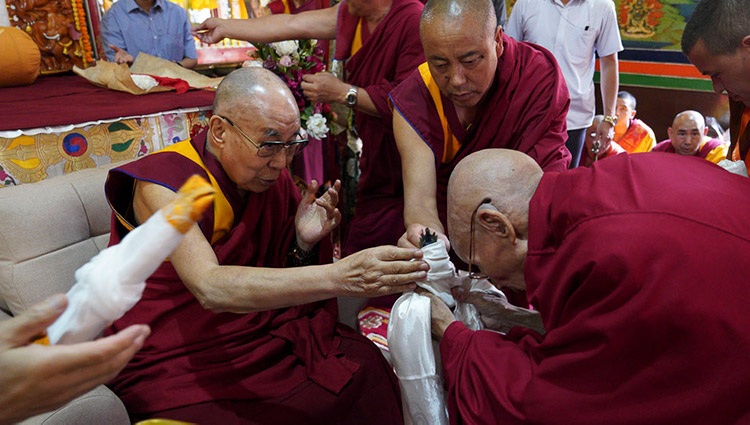 "In Tibet there were three monasteries, 'Nga, Dak and Gyal'" His Holiness explained, "that were founded by Gyalwa Gendun Gyatso, the Second Dalai Lama." These were Ngari Tratsang, Dakpo Shedrup Ling and Chö-khor Gyal on the banks of Lhamo Latso.
"Rinpoché here, (the Abbot), expressed a wish to re-establish Ngari Tratsang in exile, so I suggested he do that here. I'm grateful to him for doing so and inviting me to visit. I would also like to thank the Lamas of other traditions who have joined us today.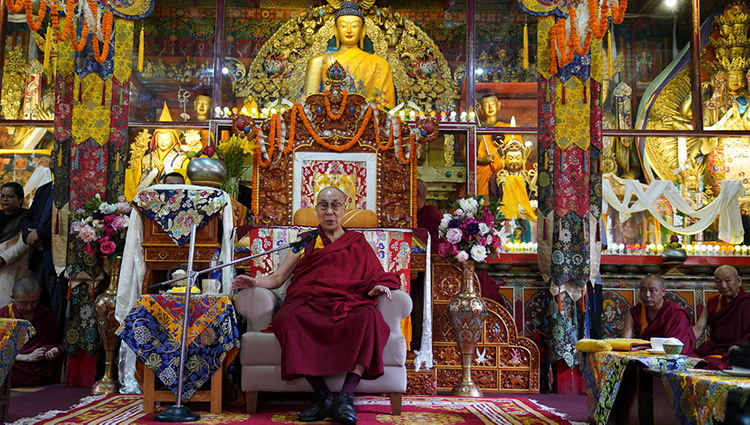 "Although we have fewer monks these days, it's still important to establish centres of learning, not only so monks and nuns can study, but so lay-people can too. Buddhism is not founded on faith but on reason. Immediately after his enlightenment, the Buddha felt that, although he had realized a nectar-like Dharma, if he were to try to teach it nobody else would understand what he said. It was through the use of reason that his followers' understanding began to grow."
His Holiness asked what texts the monks were memorizing and was pleased to hear that they were learning 'Ornament for Clear Realization', 'Abhisamayalankara'. He mentioned how important it is to combine this explanation of the Perfection of Wisdom instructions with those of the Middle Way View (Madhyamaka).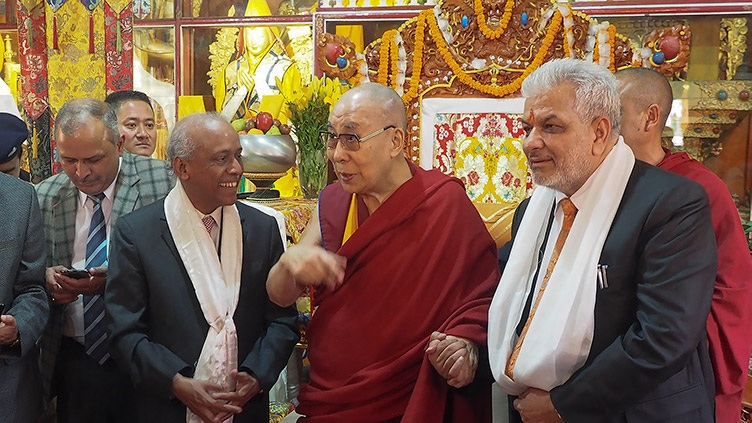 His Holiness announced that he will teach the 'Eight Verses for Training the Mind', the '37 Practices of Bodhisattvas' and Nagarjuna's 'Commentary on Generating the Awakening Mind of Bodhichitta' on 13th and 14th August. On 15th he will give the empowerment of Avalokiteshvara Lord of the World.