Arrival in the Nubra Valley
|
Diskit, Ladakh, J&K, India, 12 July2018
His Holiness the Dalai Lama arrived in the Nubra Valley this morning. The flight from Leh took only twenty-five minutes. Landing at Thoise airport he was received by former Rajya Sabha Member, Thiksey Rinpoche, Kelkhang Rinpoche, Gyal P Wangyal, (CEC) (LAHDC), Deldan Namgyal, MLA for Nubra, T Norbu, President of the Nubra Ladkah Buddhist Association, Abdullah Masjid, President of the local Muslim Association and Sonam Norbu, the local SDM.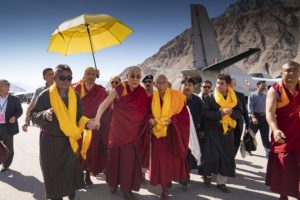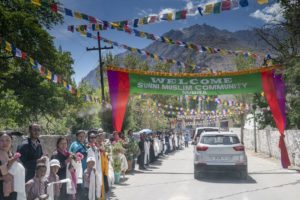 As His Holiness drove towards Diskit, the roads were lined by local people in their best clothes, standing in front of their houses, alongside colourful carved tables bearing an array of potted flowers. Many held flowers, incense and customary white scarves in their hands, others also offered bowls of milk and yoghurt. Well-wishers included men, women and children, from Muslim as well as Buddhist communities, as well as musicians playing horns and drums, and smiling school-children assembled near their schools.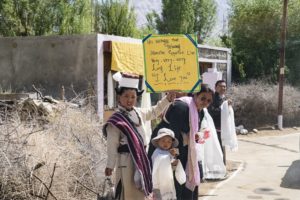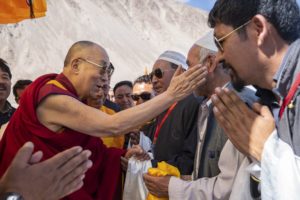 The Diskit streets were decked out with prayer flags. Expectant members of the public were inspired to see a strong rainbow halo around the sun. Monks of Diskit Monastery in their yellow hats played horns and cymbals to welcome His Holiness as he arrived. When he climbed out of his car at Diskit Monastery Phodrang, Thiksey Rinpoche, Kelkhang Rinpoche and senior members of the Monastery stepped forward to greet him. At the top of the steps to the residence His Holiness turned to wave before going inside to rest.
Tomorrow, His Holiness will teach the 'Eight Verses of Mind Training' and 'In Praise of Dependent Arising' at the Diskit Phodrang.