Speaking about Compassion at Guru Nanak College
|
Mumbai, India – This morning, His Holiness the Dalai Lama was the guest of Guru Nanak College, which is situated in a neighbourhood of Sion known as Guru Tegh Bahadur Nagar, named after the ninth of the ten Sikh Gurus. The college aims to provide education for an inclusive society and had invited His Holiness to give a 'Silver Lecture' on compassion. He was warmly welcomed on arrival at the college by the Principal Dr Vijay Dabholka and members of the college management. They accompanied him through the corridors to the auditorium where an audience of one thousand students and faculty awaited them.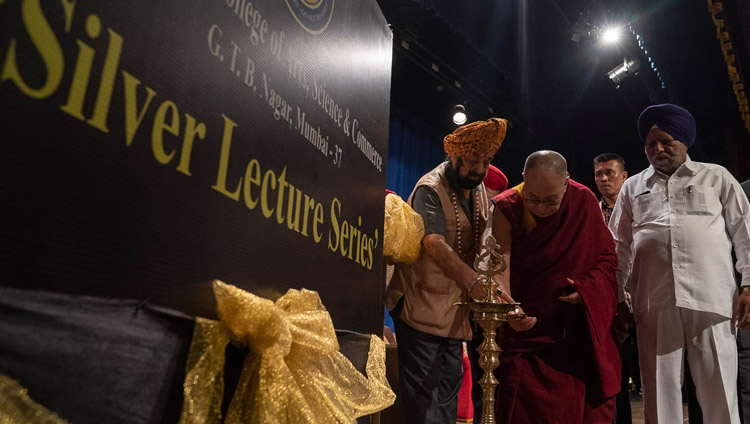 His Holiness took part in the lighting of a lamp and prayers to open the proceedings. The Principal began his address with the traditional Sikh salutation, "Wahe Guruji ka Khalsa, Wahe Guruji ki Fateh". He declared it was an honour to be able to welcome His Holiness to the college and looked forward to hearing what he had to say about fostering compassion in a world that has witnessed such changes as the internet, space travel and globalisation.
Sadar Manjit Singh on behalf of the College management added, "We welcome His Holiness to this temple of learning, confident that interaction with him will leave all of us richer. We value your message of peace and harmony."
His Holiness was presented with an engraved silver plate, a bouquet and a shawl as a mark of affection. A brief introduction mentioned his birth in Tibet, that he trained in the Nalanda Tradition, is an admirer of Mahatma Gandhi and that his message of love, compassion and forgiveness prompted the Nobel Committee to acknowledge his kindness and respect towards all living beings.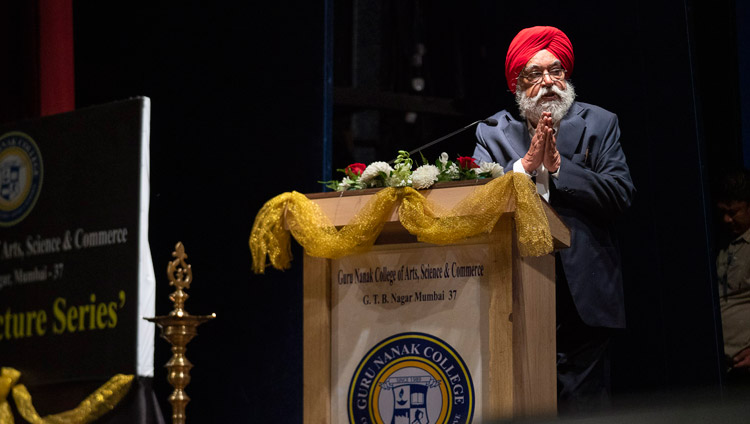 Telling them how much he dislikes formality, His Holiness greeted the audience as "brothers and sisters".
"In today's world, it's important that we recognise our 7 billion fellow human beings as brothers and sisters. As human beings we all have not only a desire, but also a right to be happy. However, we tend to be preoccupied by differences of nationality, religious faith and so forth that lead us to think in terms of 'us' and 'them'. We neglect the fact that at a deeper level we are all the same in being human and there is no justifying fighting and killing each other. When I meet other people, I think of myself as just another human being. If I think of myself as being a Tibetan, a Buddhist or the Dalai Lama, it just serves to set me apart from others.
"Today, we are functioning in a global economy and are faced by the threat of climate change, which experts tells us is serious and likely to get worse. These issues affect the whole of humanity and we have to help each other by working together to deal with them. This is why having a sense of the oneness of humanity is important.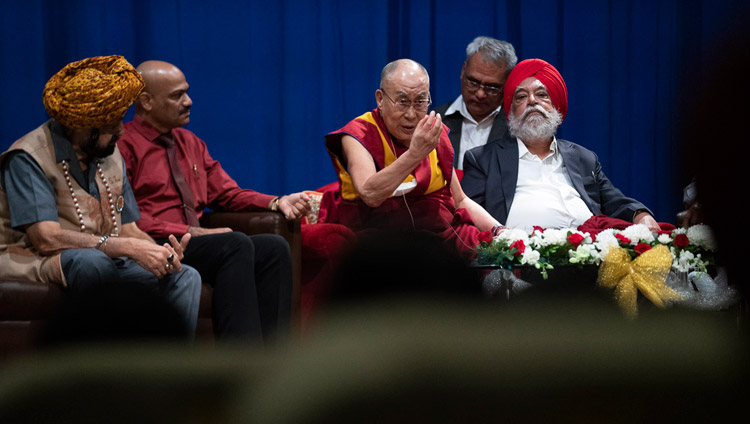 "Similarly, because all religious traditions involve and benefit human beings we can respect them all. We can even learn from each other. In this respect, India sets an example to the rest of the world. I admire Guru Nanak, who came from Hindu background, for making a pilgrimage to Mecca as an expression of respect. What a great gesture?
"I believe this kind of attitude arises out of India's longstanding tradition of 'ahimsa'. Non-violence or 'ahimsa' is the conduct, but the motivation is 'karuna' or compassion. One follows from the other in a way that couldn't link anger to 'ahimsa'. We need such qualities here and now in the 21st century because as human beings we are essentially the same and we all have to live together on this small planet.
"I sometimes ask if religion remains relevant today, because if it doesn't we could just forget it. We live in a materialistic world where people assume that anger, greed and so forth are just a part of how we're made. The message religions convey about love, tolerance and contentment provide a viewpoint to counter these destructive emotions. India is the one country that could combine modern education with the ancient knowledge of how to recognise and tackle our afflictive emotions.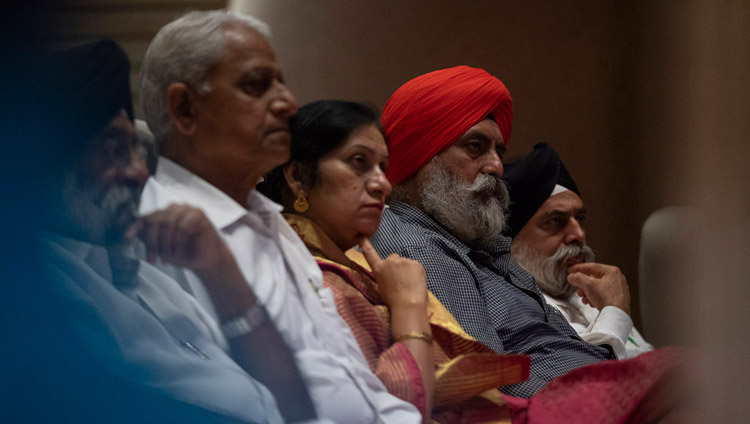 "The practices of shamatha and vipashyana, practices for cultivating a calmly abiding mind and analytical insight, can help us tame our turbulent minds. We need material development, but we also need moral principles. Because people take hope and inspiration from religious practice it remains relevant today. What's more, just as I am committed to encouraging harmony among religions, the idea of violence in the name of religion is contradictory and unthinkable. This is why I am also dedicated to promoting ways to develop peace of mind, which is the essential basis on which we can build lasting world peace."
With regard to Tibet, His Holiness explained that he is committed to speaking up for the protection of its natural environment. He mentioned a Chinese ecologist's observation that Tibet is as important to the balance of the global climate as the North and South Poles, so he referred to it as the Third Pole.
He added that he is dedicated to keeping Tibet's knowledge of philosophy, psychology and logic alive, as well as the Tibetan language in which it is most accurately expressed. Of late, he has, in addition, been moved to revive ancient Indian knowledge amongst modern Indians with a view to showing how to develop peace of mind.
The first of several questions from the audience was about His Holiness's hopes for Tibet. He answered that despite all the hardship Tibetans have faced, their spirit is unsubdued and remains strong. Chinese hardliners have failed to suppress Tibetan language and culture. These days, Chinese Buddhists are increasingly coming to appreciate the Tibetan Buddhist tradition. He remarked that things are changing and that a totalitarian system has no future.
His Holiness explained to a woman who asked why there were no Bhikshunis, fully ordained nuns, in the Tibetan tradition that Shantarakshita established the Mulasarvastivadin monastic discipline in Tibet. According to that tradition, the ordination of Bhikshunis requires the presence of a Bhikshuni abbot and no such person came to Tibet. In recent years, however, some Tibetan nuns have taken the ordination in the Chinese tradition.
In the past, Tibetan nuns generally did not study extensively, but over the last 40 years His Holiness has encouraged them to do so. Consequently, there are now nuns who have been awarded the Geshe-ma degree indicating that they have training and knowledge equivalent to similarly qualified monks.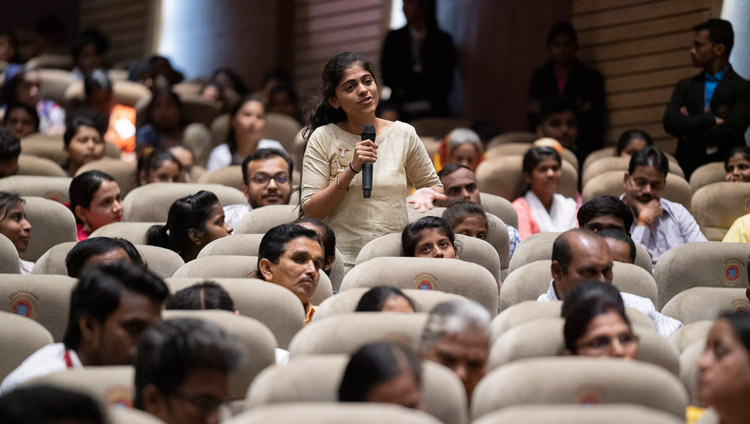 Another questioner wanted to know about the practice of vipashyana. His Holiness explained that shamatha or cultivating a calmly abiding mind is a meditation practice for developing single-pointed concentration. This renders the mind more powerful. Vipashyana involves analytical meditation which leads to insight. Through analysis we can recognise how destructive emotions like anger destroy our peace of mind. Similarly, it reveals how compassion brings about trust, self-confidence and inner strength, qualities that enable us to live more honestly and truthfully.
Asked whether he ever gets angry, His Holiness conceded that occasionally he does but that it doesn't last. Finally, asked to name the one thing that would bring deep and lasting benefit and he answered, "Developing warm-heartedness."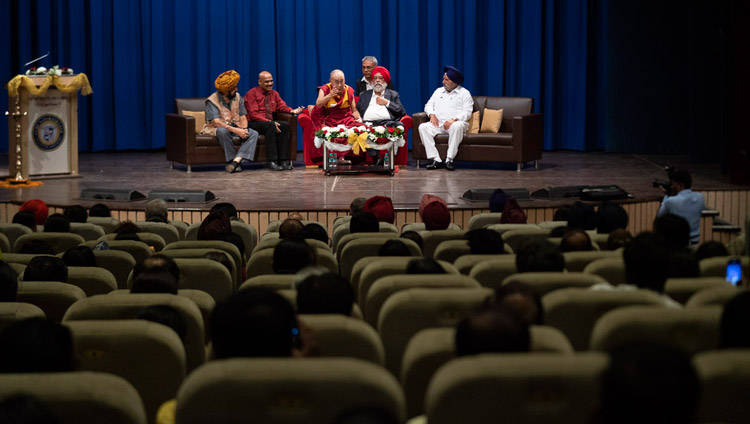 A vote of thanks was read in Hindi, following which the entire gathering stood for the national anthem.
After His Holiness left the stage, his hosts walked with him to his car. On the road outside the college gate Tibetans joined other well-wishers to see him off. He smiled and waved to them as he passed.