Prayers at the Mahabodhi Stupa and Meeting with Gelukpa Abbots and Teachers
|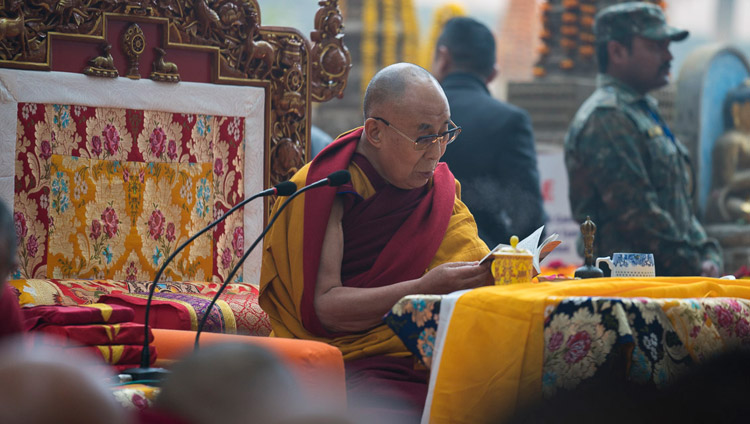 After completing the circuit, continuing to greet people as he went, His Holiness took his seat facing the Bodhi Tree. Following the Chant Master's lead he then joined in prayers being held to mark the fifteenth death anniversary of Khenpo Jigme Phuntsok, the celebrated Nyingma Lama around whom the thriving Buddhist community of Larung Gar gathered in Tibet.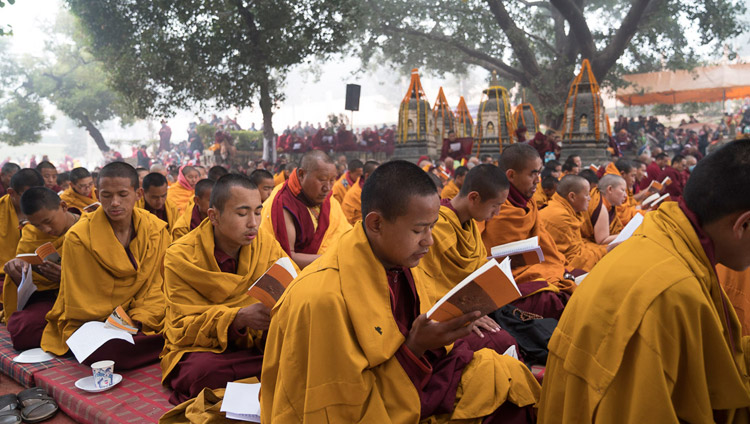 After a quarter of an hour, His Holiness returned to the Tibetan Temple where he took part in a meeting of Gelukpa Abbots and teachers. Shartse Khensur Jangchub Chöden welcomed His Holiness, the Ganden Tripa and other distinguished guests and invited the Ganden Throne-holder to open the meeting. Tri Rinpoche declared that at this propitious time, when His Holiness is giving teachings and empowerments and the Gelukpa Mönlam is being celebrated in Bodhgaya, it was appropriate to discuss how to improve education in the Gelukpa seats of learning. He expressed gratitude for His Holiness's teachings and advice, and prayed that he live long.
"The teaching of the Buddha is about taming the mind not merely on the basis of faith, but in dependence on reason and logic," His Holiness averred. "However, the general public in Tibet didn't pay much attention to this. It was the monastic community's responsibility to study and learn. After we came into exile in 1959, we re-established our centres of learning. But it wasn't until my first visit to Europe in 1973 that I really came to appreciate that we could learn from others and there was a great deal they might learn from us.
"We read about non-Buddhist points of view in classic Indian texts. Now that we have the opportunity we should invite those who hold such views to share their knowledge with us. For centuries we have preserved our traditions, but they haven't developed very much. In the monastic colleges the focus is on the particular college's text books rather than on the works of Je Rinpoche or the Indian classics. We should extend the range of our studies. It would be good too if, for example, Gelukpas learned what Nyingmapas have to say and if Nyingmapas paid attention to Gelukpa doctrine. We need to reinvigorate our traditions. To be complacent now will just lead to difficulties in the future. We need to assess the current circumstances and see whether there are drawbacks and shortcomings in what we are doing that can be overcome."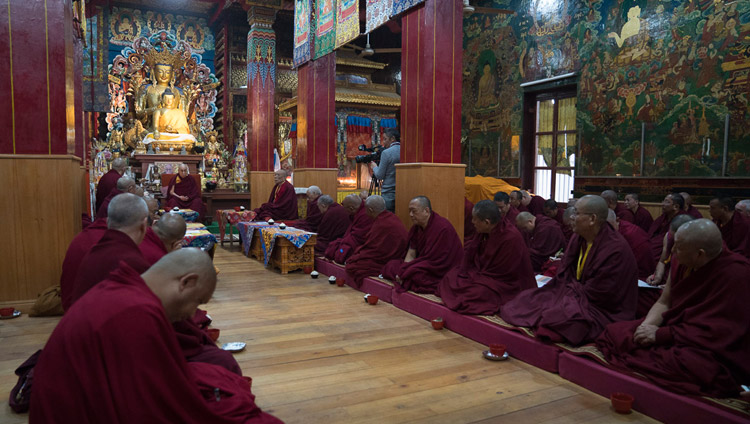 Responding to a Geshé who told the meeting that he had studied for more than twenty years but didn't feel it brought about the inner transformation he sought, His Holiness agreed that in addition to scholarship, there is an urgent need for people with real experience.
Another teacher mentioned difficulties being faced in Mongolia, a traditional Gelukpa stronghold. Proponents of Dolgyal misleadingly assert that they are the true holders of the ear-whispered Gelukpa traditions, which creates confusion. In addition, Christian missionaries establish education and health facilities with a view to converting local people. While expressing his disapproval of such behaviour, His Holiness made clear how careful he is not to be seen to be propagating Buddhist teachings in Judeo-Christian countries.
In his final remarks His Holiness mentioned that although the tradition of rigorous study had been well-restored in the monastic centres of learning it does not seem to capture the imagination of school students, whose ambitions and aspirations increasingly look towards the West. "This," he said "is something to think about."
Source: https://www.dalailama.com/news/2018/prayers-at-the-mahabodhi-stupa-and-meeting-with-gelukpa-abbots-and-teachers