Offering of a Long-Life Ceremony to His Holiness the Dalai Lama
|
May 17, 2019
Thekchen Chöling, Dharamsala, India – An estimated 7500 people packed the Tsuglagkhang, the Main Temple and Yard adjacent to His Holiness the Dalai Lama's residence this morning to participate in offering prayers for his long-life. The route from the palace gate to the temple through the yard and the temple itself had been richly decorated with garlands of flowers and bouquets. The pillars were painstakingly wrapped in coloured cloth. Tashi Shölpa, Gyal Shay and Lhamo dancers welcomed His Holiness as walked from his residence.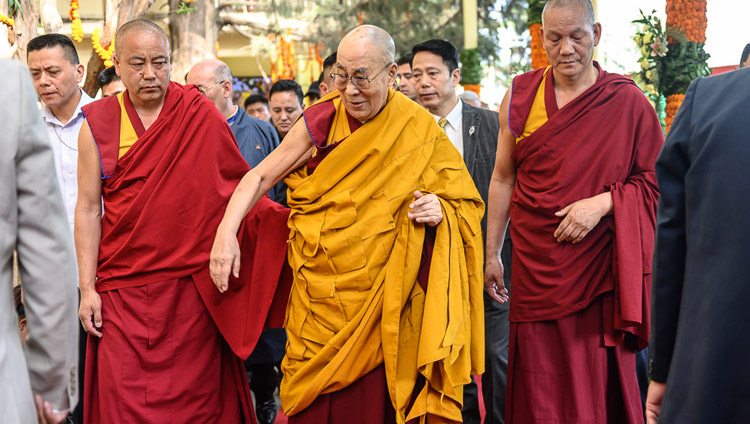 Inside the temple, which was filled with monks, sat representatives of Tibet's religious traditions: from the Bön tradition, Menri Lopon Trinley Nyima Rinpoché; from the Geluk tradition, Jangtsé Chöjé, Gosok Rinpoché and Ganden Tri Rinpoché, Jetsun Lobsang Tenzin; Head of the Sakya tradition, Sakya Trizin, Ratna Vajra Rinpoché; also from the Geluk tradition, Sharpa Chöjé, Lobsang Tenzin; from the Karma Kagyu tradition, Situ Rinpoché; and from the Nyingma tradition, Ringu Tulku.
To the right of His Holiness's throne, behind Ganden Trisur, Rizong Rinpoché, sat the Abbots of Sera, Ganden, Drepung, Tashi Lhunpo, Gyumé and Gyutö Monasteries, while to the left sat serving and retired Kalöns.
His Holiness greeted them with a broad smile when he arrived, before taking his seat on the throne. Looking out over the audience he saw six monks from Thailand and directed that they be seated with the Abbots on the dais.
The ceremony, conducted by monks from Namgyal, Gyutö and Kirti Monasteries began with a prayer invoking the former incarnations of Avalokiteshvara in India and Tibet composed by the late Trulshik Rinpoché. Next, the 'Praise to the 17 Masters of Nalanda' was recited. The offering requesting His Holiness's long life was a rite focussed on Amitayus by the Fifth Dalai Lama and belonging to the collection of his Secret Visions. Its performance had been recommended by Nechung, the State Oracle, during the customary New Year trance and was offered by the Central Tibetan Administration (CTA) and the People of Tibet.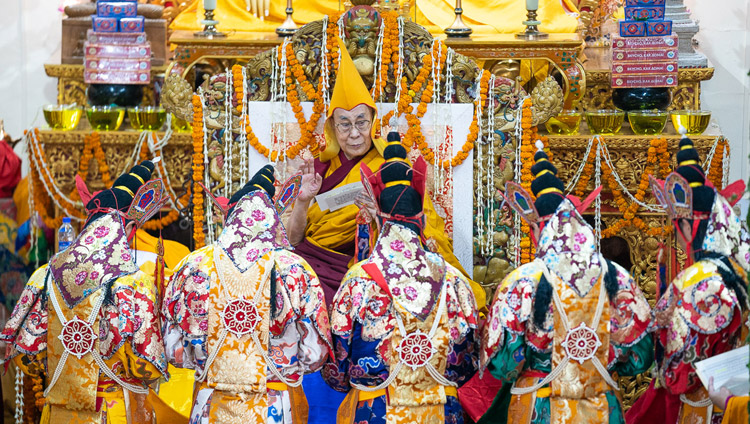 At a certain point in proceedings, after the dispatching of the five dakinis, the Nechung Oracle and the oracles of Dorje Yamakyong, Nyenchen Thangla, and Kharak Khyung Tsün approached His Holiness in trance, dancing and offering prayers. They were followed by the representatives of Tibet's religious traditions who paid His Holiness their respects and offered prayers. Tsog was offered to him.
Sikyong Dr Lobsang Sangay stood with Sakya Trizin as he made the mandala offering and recited from memory a long supplication to His Holiness to live long. The supplication mentioned that he has been inconceivably kind to the Tibetan people and has taught all over the world. He has encouraged harmony among the world's religious traditions, the protection of the environment, and the preservation of the Tibetan cultural heritage. He has advocated non-violence. He has presented the knowledge contained in the Kangyur and Tengyur collections in terms of philosophy, science and religion and promoted secular ethics for the benefit of all.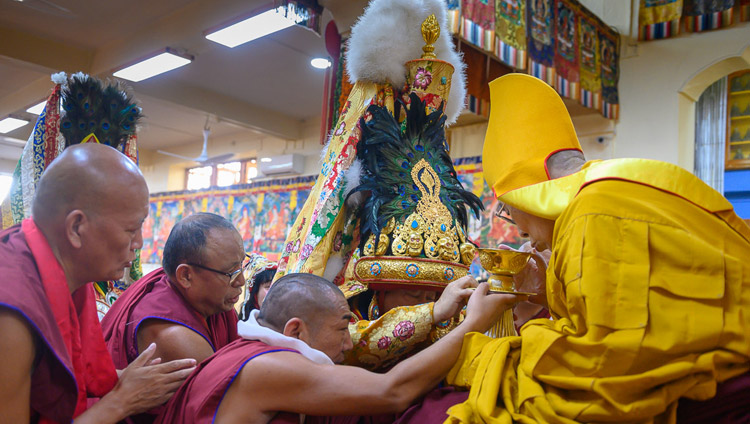 The supplication ended, "May your life be as firm as an indestructible vajra, may the Tibetan people be reunited and may you return to Tibet to sit on the Lion Throne in the Potala Palace. Please guide us from life to life. We request you accept our prayer." With that the Sakya Trizin presented a statue of Amitayus to His Holiness, followed by trays bearing the eight auspicious emblems, the seven symbols of royalty and the eight auspicious substances.
The religious heads and dignitaries from the CTA offered silk scarves.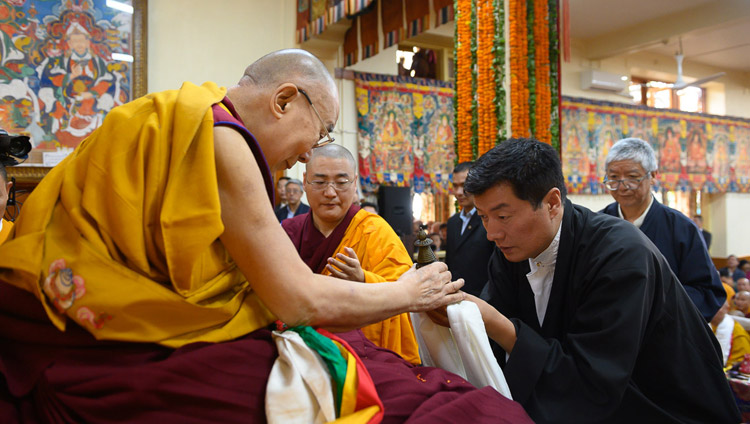 His Holiness addressed the gathering. "People from the Three Provinces, representatives of our spiritual traditions and protector deities oath-bound at the time of King Trisong Detsen have made this Long-Life Offering—I'd like to thank you all.
"When I recently fell ill many people around the world, as well as inside and outside Tibet, prayed for me, and again I'd like to thank you all. Karma is such that if you haven't done something, you won't experience the consequences, nor will the consequences of someone else's action ripen on you. However, because of close relations within a family and close links between teachers and students prayers between them can be effective. Those who prayed for me did so sincerely—I'm sure it will have been powerful and effective. Thank you.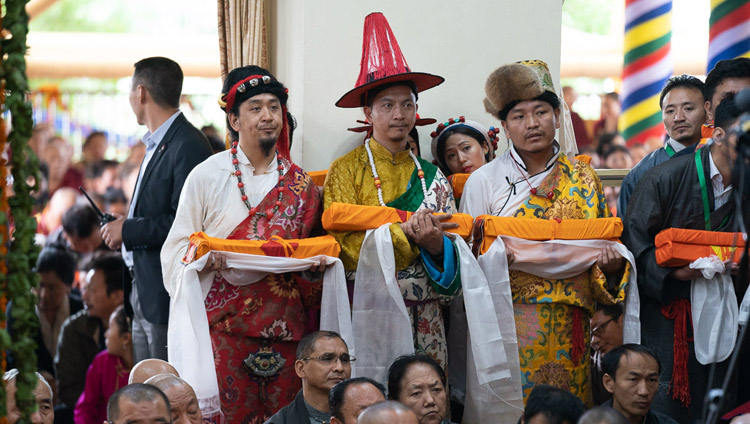 "I can't talk about my past lives, but in this life I became a monk and I've studied and practised, as Jé Rinpoché writes towards the end of 'Dependent Arising: A Praise of the Buddha':
"Becoming ordained into the way of the Buddha
by not being lax in study of his words,
and by yoga practice of great resolve,
this monk devotes himself to that great purveyor of truth."
His Holiness described his deep respect for the 17 Masters of Nalanda. He observed that there had earlier been a praise for the 'Six Ornaments and Two Supremes', which overlooked several masters whose works were influential in Tibet. Consequently he composed his 'Praise to the 17 Masters of Nalanda' and encouraged the study of their respective treatises.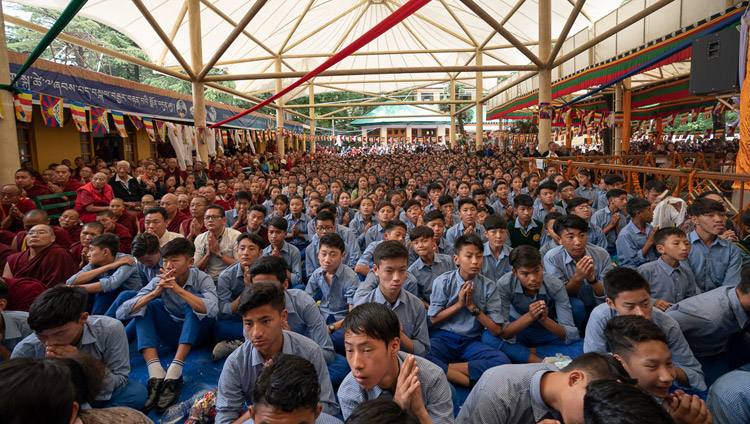 "I've given serious thought to emptiness," he continued, "thanks to the encouragement of my debate assistant Ngodup Tsognyi. Later, when I reported to Kyabjé Ling Rinpoché my experience as a result of contemplating the Second Dalai Lama's 'Songs of the Correct View', he remarked, 'Before long, you'll be a 'space-yogi'. As Choné Lama Rinpoché put it, 'It's because of my teachers' kindness that I have anything to say about emptiness, the luminous nature of the mind and bodhichitta'.
"As far as bodhichitta is concerned, I found my mind was transformed as a result of hearing Khunu Lama Rinpoché's explanation of 'Guide to the Bodhisattva's Way of Life' in 1967. I've gained some experience of the view of emptiness and the extensive path of bodhichitta and I've shared it with others because I've seen them to be beneficial. I continue to generate bodhichitta on a daily basis and reflect on what Shantideva wrote:
"Whatever joy there is in this world
All comes from desiring others to be happy,
And whatever suffering there is in this world,
All comes from desiring myself to be happy.
If I do not actually exchange my happiness
For the sufferings of others,
Not only shall I not attain the state of a Buddha
Even in cyclic existence I shall have no joy.
As long as space endures,
As long as sentient being remain,
Until then, may I too remain
And dispel the miseries of the world.
"In this life I've been able to serve the Tibetan people and the Tibetan tradition and I've been able to show others how helpful an altruistic mind can be. Predatory animals only kill when they are hungry, but human beings do harm to each other on almost any pretext. In such a context we need to be more altruistic."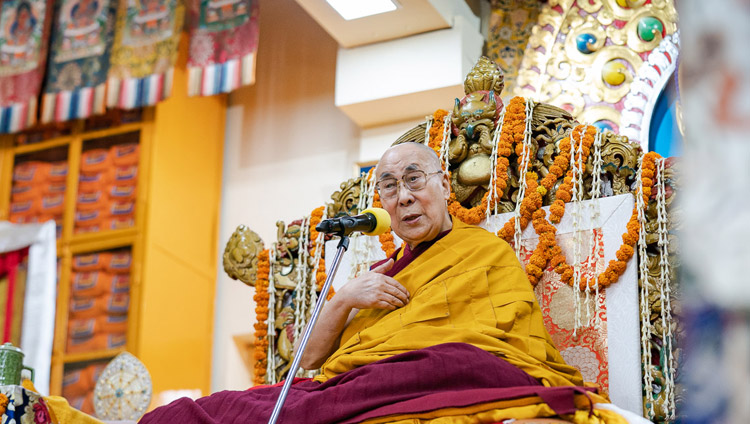 His Holiness quoted the Buddha's advice: 'As the wise test gold by burning, cutting and rubbing it, So, bhikshus, should you accept my words—after testing them, and not merely out of respect for me.' He observed that only the Buddha encouraged such a sceptical, reasoned approach. He noted that in his first round of teachings, the Buddha explained the Four Noble Truths and the 37 Factors of Enlightenment. During the second round he clarified the Perfection of Wisdom and in the third round he revealed the clear light nature of the mind, which is the basis for tantric practice. Thus, the Buddha gave his teachings in a progressive way.
Referring to his three commitments, His Holiness remarked that as a simple human being himself, he is committed to serving humanity. As a Buddhist he is committed to promoting harmony amongst religions, which as a result of its longstanding traditions of ahimsa and karuna (non-violence and compassion), flourishes in India. The aim of all religious traditions is peace. Thirdly, as a Tibetan, His Holiness reported that he has done his best to educate Tibetans in exile. Although it's been difficult for him to be very effective in Tibet, in exile he has done what he could to support and enrich Tibet's cultural heritage.
"Buddhism in Tibet is a complete tradition," he asserted, "including the Fundamental Vehicle, the Universal Vehicle and Tantra. Shantarakshita, a philosopher and logician, established Buddhism in the Land of Snows. Sakya Pandita followed his lead when he wrote the influential 'Treasury of Logic and Epistemology'. It's on the basis of this that we've had successful and mutually beneficial interaction with modern scientists. I've made some contribution to general well-being over the last 60 years, but the unflinching spirit of the people in Tibet has been my inspiration. It's because of them that we've been able to keep our culture alive.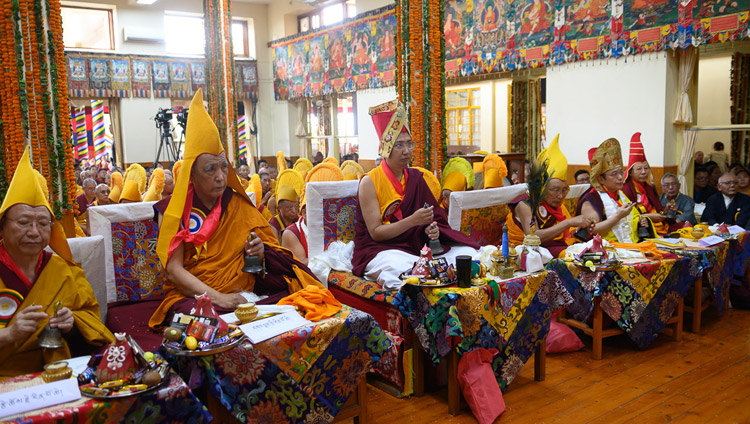 "The First Dalai Lama, Gyalwa Gendun Drup, who lived to be 84, had no wish to be born in a pure land. Since I have the opportunity to benefit beings, it will be good if I'm able to live longer. I make prayers to him for his blessing that I may live another 10-15 years.
"Once I had a dream that I was swimming, even though I can't swim, and Palden Lhamo was riding on my back. She remarked, 'There's no doubt you'll live till you're 110 years old.'" Applause rippled through the temple. "Other people too have dreamt that I may live till I'm 113. As I told people in Ladakh, what would you prefer, that you keep asking me to come here and there, or that I live long?
"People and gods have made this Long-Life Offering. I'm sure it will have a positive effect and I hope I will live to 110."
Several auspicious prayers were recited as former and serving cabinet ministers paid their respects to His Holiness, concluding with the 'Words of Truth'.