International Conference on Jé Tsongkhapa: Life, Thought and Legacy
|
December 20, 2019
Mundgod, Karnataka, India – As His Holiness the Dalai Lama walked from Ganden Shartsé Monastery to the Ganden Lachi Assembly Hall, where 1000 people were sitting inside and more than 4000 more were seated in the shade outside, he was escorted by the Shartsé Abbot, Ven Jangchub Sangyé. At the head of the temple, he lit a lamp before the images of the Buddha and took his seat in front of the throne.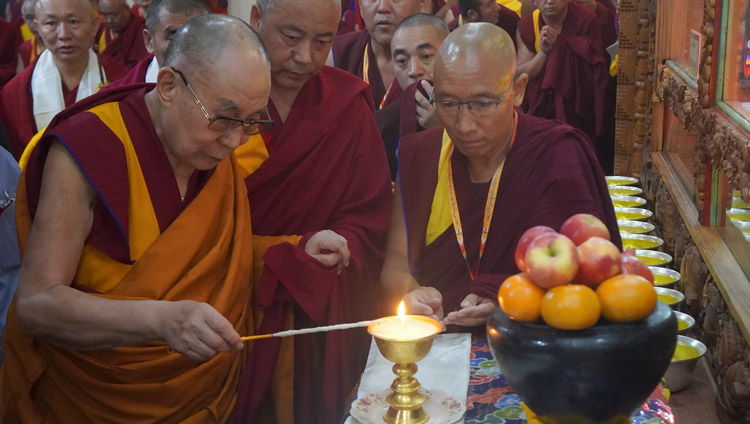 Moderator for the inaugural session, Khensur Jangchub Choeden welcomed His Holiness, the Ganden Throne-holder, Sharpa and Jangtsé Chöjés, Abbots, Lamas and guests from abroad. He explained that the conference had been convened to discuss Jé Tsongkhapa's life, thought and legacy on the occasion of the 600th anniversary of his death. He turned to Dr Thupten Jinpa to give an overview of the impending proceedings.
Dr Jinpa remarked that holding this international conference at Ganden, the monastery Tsongkhapa founded, made it really historic. Add to that that the keynote address was being given by His Holiness made it auspicious as well. He said that as a student of His Holiness and a former monk of Ganden Monastery, he was humbled and honoured to be present.
He suggested that Tsongkhapa became one of the pre-eminent figures in the history of Tibetan Buddhism. Born in 1357 in Amdo, by the end of his life in 1419 the three great Seats of Learning had been founded under his influence. He had attracted a huge following as a result of his extensive teaching, but also due to his insistence on developing an integrated understanding founded on critical understanding and reason, as well as a strong advocacy of the role of ethics.
Dr Jinpa explained that the conference would consist of six two-hour sessions over three afternoons. These sessions would focus on several themes, including Tsongkhapa's life, thought and legacy; his contributions to Madhyamaka and the study of the Perfection of Wisdom; the theory and practice of meditation; the stages of the path and mind training, particularly as they concern bodhichitta and compassion; and his contribution to Vajrayana thought and practice. He highlighted three aims for the conference: to honour Tsongkhapa on this 600th anniversary, to explore his thought and spiritual legacy and to examine what insights from his thought and teachings are relevant to life today.
With regard to conference participants, Dr Jinpa pointed out that it is a truly international meeting. He drew special attention to the presence among the presenters of two Geshé-mas. The award of the highest degree to nuns has come about as a result of His Holiness's vision and encouragement. He also made a point of welcoming the two most senior international scholars of Tsongkhapa's tradition, Professor Jeffrey Hopkins and Professor Robert Thurman.
Finally, Dr Jinpa thanked His Holiness for being such an inspiring exemplar of Jé Tsongkhapa's tradition and expressed gratitude to everyone present for joining in this historic celebration. Before resuming his seat, Dr Jinpa offered His Holiness a copy of his newly published biography of Jé Rinpoché called, 'Tsongkhapa, a Buddha in the Land of Snows'.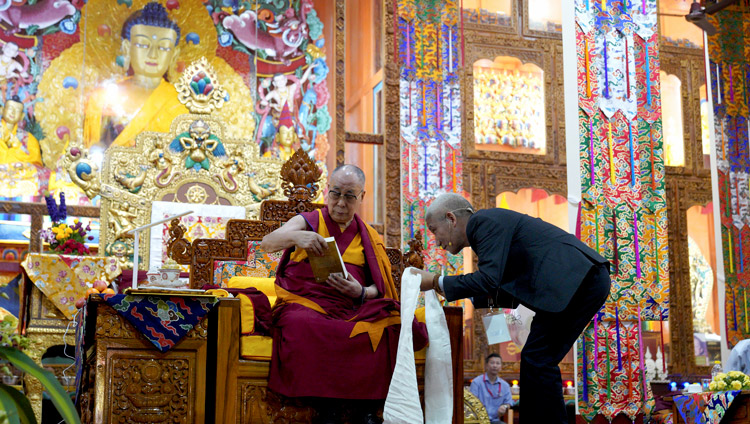 Khensur Jangchub Choeden duly thanked Dr Jinpa for setting the scene and invited His Holiness to give the keynote address.
"So, we're holding this international conference in connection with the 600th anniversary of the great master Tsongkhapa's death and enlightenment and focussed on his legacy," His Holiness began.
"Of the many different religious traditions in the world, several of those that arose in India are important because they involve practices for developing a calmly abiding mind and insight into reality. Religious practice remains relevant today inasmuch as the main message of most traditions is the importance of cultivating love and compassion.
"All sentient beings are subject to mental afflictions like desire, anger and ignorance, but only human beings make war on each other. We should have had enough of violence, but arms sales go on. This is why we urgently need to focus on non-violence and compassion. We are social animals, dependent on our community, so it is basic human nature to be compassionate.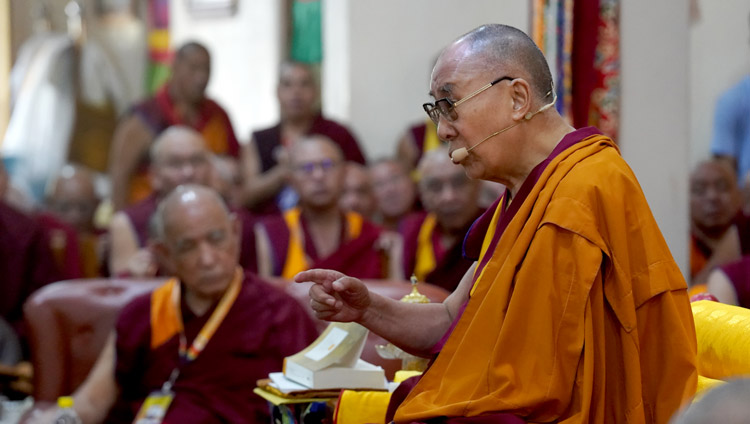 "There are theistic traditions and non-theistic traditions. People who follow the first pray to God. Those who belong to the second have no place for a creator, instead, as the Buddha declared, 'You are your own master'. We can make a difference to whether we experience pain or pleasure by bringing about change in our minds.
"Buddhism appeared in India as a result of the Buddha's three rounds of teaching. During the first he explained how we enter into the cycle of existence as a result of karma and delusion, as well as how free ourselves by following the path and achieving cessation. We need to explore whether it's really possible to attain cessation or not.
"The Nalanda Tradition stresses the use of logic and reason. It takes as a starting point the Buddha's advice to his followers, "As the wise test gold by burning, cutting and rubbing it, so, bhikshus, should you accept my words—after testing them, and not merely out of respect for me." Although China, Korea, Japan and Vietnam were influenced by the Nalanda Tradition too, only in Tibet and later Mongolia did Buddhist actively employ logic and reason."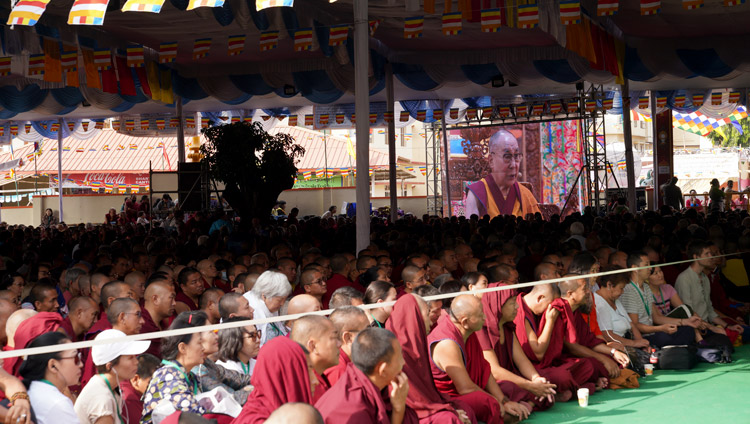 His Holiness observed that when the Tibetan King Songtsen Gampo wanted to create a Tibetan system of writing, he disregarded Chinese methods and adopted an Indian model. When Shantarakshita came to Tibet in the eighth century at the then King's invitation, he encouraged the translation of Buddhist literature into Tibetan so that Tibetans could study in their own language. At Samyé Monastery he set up a department of translation, as well as departments of concentration and celibacy. The Nalanda Tradition that Shantarakshita introduced was grounded in the use of logic and reason. Dignaga's and Dharmakirti's extensive writings on logic and epistemology were translated into Tibetan. Later, Tibetan scholars like Chapa Chökyi Sengé (1109-69), the Abbot of Sangphu, and Sakya Pandita elaborated on these themes.
"It was with the confidence of an accomplished logician that Gyaltsap Dharma Rinchen set out to challenge Jé Tsongkhapa. Coming to where Jé Rinpoché was teaching he took his seat next to him on the throne. Jé Rinpoché just continued to teach and gave such a profound presentation that first Gyaltsap took off his hat and then conceded Tsongkhapa's superiority by stepping down.
"Jé Rinpoché had visions of meditation deities, but emphasized study of the classic texts. During such a vision of Manjushri he received instructions that he couldn't understand. Manjushri advised him to study further. After going into retreat, he dreamt of Nagarjuna and his five main followers. One of them, who had a dark bluish complexion, approached him and touched a book to his head. Tsongkhapa recognised him as Buddhapalita. The next day, while reading Buddhapalita's commentary to Nagarjuna's 'Fundamental Wisdom', he gained insight into emptiness and dependent arising.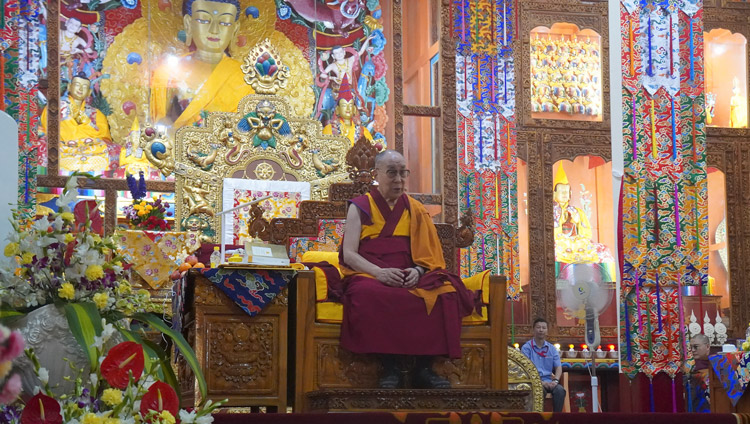 "Regarding Tantra, Tsongkhapa made a particular study of Guhyasamaja. He also wrote commentaries to Nagarjuna's 'Fundamental Wisdom' and Chandrakirti's 'Entering into the Middle Way'. This is why I think of him as a second Nagarjuna. In his writings, where Khedrup-je can be conceited, Tsongkhapa is humble. Butön Rinchen Drup wrote exhaustively on many topics, but by comparison, Jé Rinpoché seems clearer and more profound to me.
"When he was invited to visit the Chinese Emperor, Tsongkhapa replied that he'd be unable to attend because he was in retreat. He sent Jamchen Chöjé in his stead, on whom the Emperor bestowed a black hat. I used to tease the Sera monks when they placed it on the head of a statue of their founder.
"Jé Rinpoché's tradition has been kept vibrantly alive at Drepung, Ganden and Sera through study and practice. In the last few days I've observed debate here at Gomang, Loseling and Shartsé. I plan to go to Sera next March.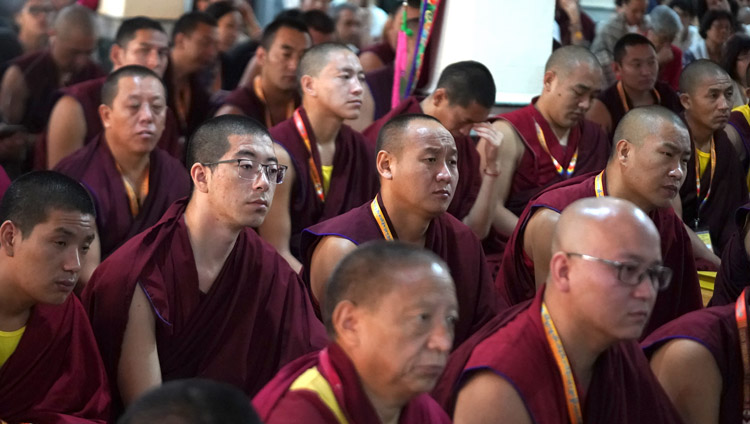 "If you look at Tsongkhapa's writings, his 'Illuminating the Intent: Exposition of Chandrakirti's Entering the Middle Way', 'Ocean of Reasoning' on Nagarjuna's 'Fundamental Wisdom', and 'Essence of True Eloquence', as well as his works on tantra like the incredible 'Bright Illuminating Lamp', you'll understand why I consider him a second Nagarjuna. Who else has left behind such a comprehensive legacy? These works are immensely helpful for gaining insight into the correct view.
"As far as bodhichitta is concerned, I've studied Shantideva's 'Guide to the Bodhisattva's Way of Life'. But any transformation I've made has also been affected by Tsongkhapa's works, including the 'Great Treatise on the Stages of the Path'. Inspired by Tsongkhapa's prayer—
Wherever the teaching has spread and declined
And wherever it has not spread
May I cause it to spread out of compassion for all living beings.
"I've tried to serve humanity and I feel I haven't let him down."
Khensur Jangchub Choeden thanked His Holiness for his eloquent insight and invited Prof Donald S Lopez to make the first presentation.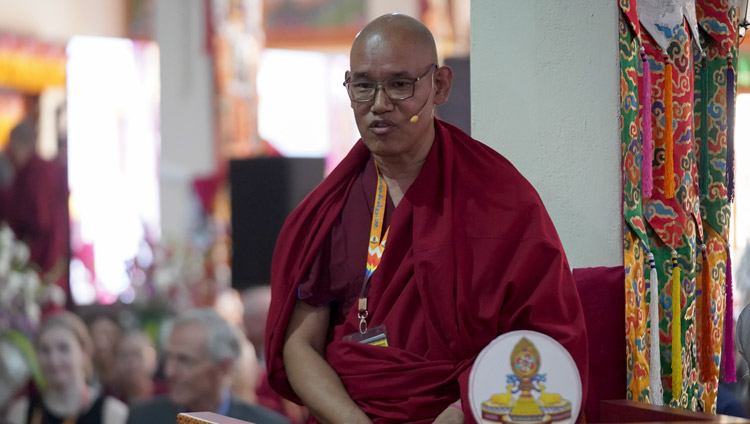 Prof Lopez began with personal reminiscences of coming to India, and to Ganden, forty years ago, where his teacher Lati Rinpoché was Abbot. He began work then on Changkya's book of tenets, translation of which he has recently completed and published. He quoted the Abbot of Gomang, Sogpo Ngawang Nyima telling him, "You're an American, I'm Mongolian. Here we are in India, speaking Tibetan, talking about someone from Amdo (meaning Tsongkhapa). There must be karma."
Lopez asked what we can say about this man who is referred to as the crown ornament of scholars of the Land of Snows? His answer was that because of him there are the Three Great Seats of Learning, as well as Tashi Lhunpo, Labrang and Kumbum, there is the Ganden Phodrang, there are the Dalai Lamas and the Panchen Lamas. This is remarkable because he wasn't a worldly innovator, but an itinerant yogin.
Lopez drew comparisons between Buddhism, specifically Tibetan Buddhism and Christianity, especially the Roman Catholic church. However, where three men, Thomas Aquinas, Thomas a Kempis and St Benedict effected change in the church, in the Geluk tradition, one man, Tsongkhapa called for the integration of philosophy, meditation and conduct.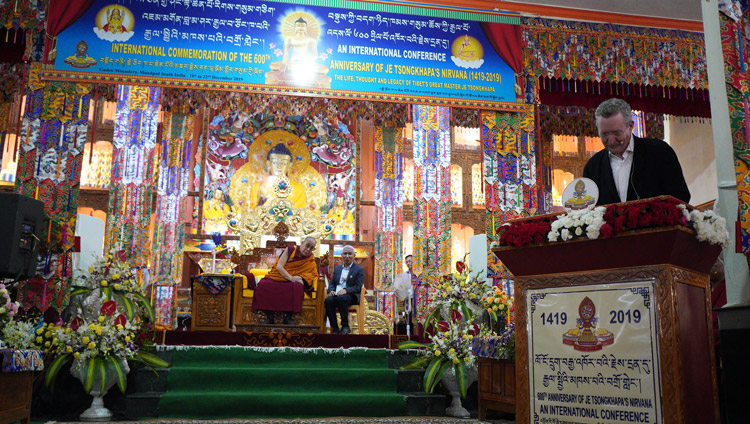 He mentioned that in his long acquaintance with Changkya's Tenets he has been regularly struck by Tsongkhapa's presence in the text, because despite not writing on tenets himself, there is hardly a topic on which he doesn't offer essential insight. He noted that it is Tsongkhapa's commitment to reason, analysis and evidence that is one of the principal lessons his works have to offer the modern world.
Prof Lopez ended with another reminiscence—when he had to leave for America in 1979, without his teacher being able to finish teaching him the 'Essence of True Eloquence', he was assured that it meant they would meet again to continue studying it. This was the text chanted by monks at Ganden 600 years ago when Tsongkhapa passed away.
Professor Lopez stepped up to offer His Holiness a copy of his recently completed translation of Changkya's Tenets.
Khensur Jangchub Choeden thanked Prof Lopez for his moving account, and since there was time asked Geshé Yama Rinchen to make the next presentation. He spoke in Tibetan about how Tsongkhapa clarified the study and practice of the Vinaya—monastic discipline. He studied many classic texts, including Gunaprabha's 'Vinaya Sutra' and Dharmamitra's extensive commentary.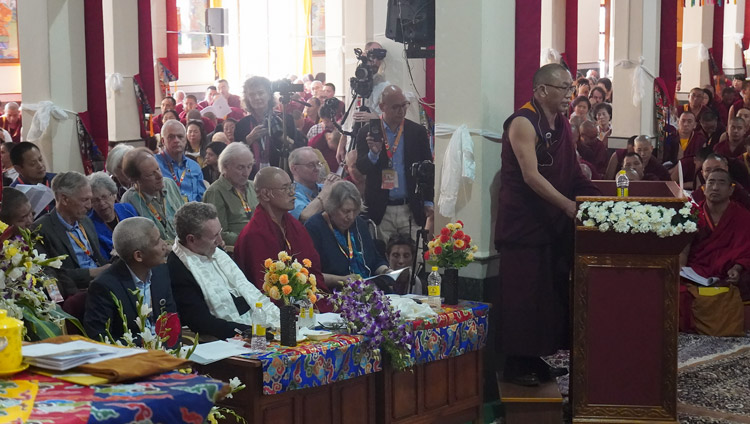 Geshé Yama Rinchen mentioned two texts one short and another long that Tsongkhapa wrote on Vinaya in Wolka that are not included in the standard editions of his collected works. He focussed on advice for those who had not taken monastic vows before, how to keep the vows, and how to restore precepts that may have been breached.
Tsongkhapa took seriously the adage that if the practice of Vinaya exists, the teaching of the Buddha flourishes. Therefore, he worked hard for its revival and preservation, making the wish, "May monks live in harmony and may the monastic community grow and grow."
Khensur Jangchub Choeden brought the session to an end, thanking Geshé Yama Rinchen for the insight he had given into the importance Tsongkhapa place on Vinaya. He thanked His Holiness for presiding over the conference's inauguration and thanked other distinguished guests for their attendance. Before everyone dispersed for lunch, the presenters gathered around His Holiness to have their photograph taken with him.
His Holiness walked from the Ganden Lachi hall back to Ganden Shartsé. On the steps he stopped to smile and wave to the crowd, who laughed, clapped with joy and waved back.