His Holiness the Dalai Lama Interviewed in Yokohama
|
Yokohama, Japan – His Holiness the Dalai Lama arrived in Yokohama from India yesterday on his 25th visit to Japan. Although the views over the bay from his hotel window were grey, His Holiness was bright and refreshed by a good night's sleep after his journey. He opened his conversation with Rina Yamasawa of NHK with a recollection of his first visit in 1967. His elder brother, Taktser Rinpoche, was here and over lunch teased His Holiness, who had become a vegetarian, that he had the tastier bowl of udon noodles.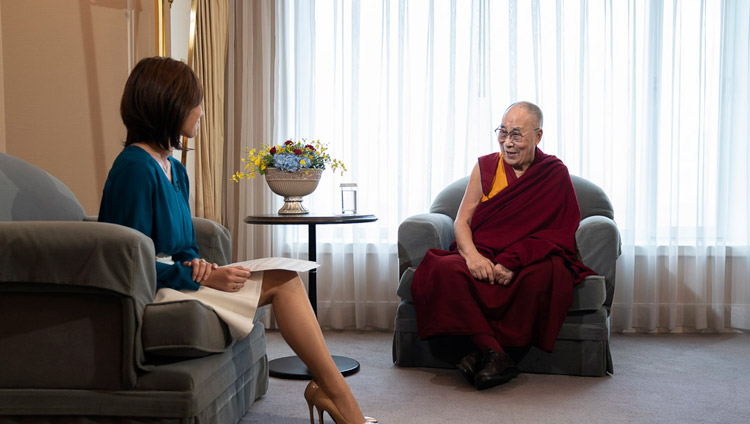 His Holiness answered a first question about how he sees the situation in Tibet today by reviewing his three commitments.
"First I consider myself just one among 7 billion human beings. While we pray for the welfare of all sentient beings, there's nothing we can do but pray for those in other galaxies. On this planet there are countless animals, birds, fish and insects, but they have no language so we can't really communicate with them. On a practical level, it's our fellow human beings who we can do something for. In a materialistic world where many don't know the value of peace of mind, I try to help them become happier by showing them how to find inner peace.
"I'm also a Buddhist and it saddens me to see conflict in the name of religion. In India, where different religions live together side by side, we see that religious harmony is possible.
"Thirdly, I'm a Tibetan and, although since 2001 I have retired from political responsibility, I remain concerned about Tibet's natural environment. What's also important is the preservation of our culture and the knowledge we obtained from India.
"Since 1974 we haven't been seeking independence for Tibet, being prepared instead to remain within the People's Republic of China. Much has changed in China over the last 40 years. The number of Buddhists has grown to more than 300 million, many with an interest in Tibetan Buddhism. Meanwhile, even hardliners among the officials are in a dilemma about how to deal with Tibet. They see that 70 years of suppression and attempted brainwashing haven't diminished the Tibetan spirit.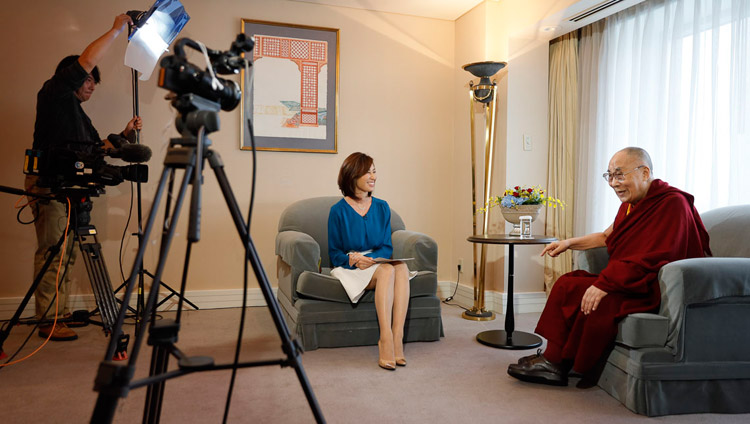 "Instead of independence we are seeking mutual benefit. The Chinese can help us with infrastructural development and we can help them with Buddhist psychology. So, our Middle Way Approach is an attempt to reach mutual agreement for mutual improvement. Some Tibetans exercise their freedom to remain set on independence such as we enjoyed in 7th, 8th and 9th centuries. However, I am a great admirer of the spirit of the European Union that places the common interest of all its members above individual nation's concerns. India too is a federation of states with different languages, cultures and religious traditions that are part of a union. I venture to imagine some kind of future union prevailing between India, China and Japan."
His Holiness went on to clarify that Tibetans in what were historically the three provinces of Tibet have a right, according to the Chinese constitution, to a high degree of autonomy. That would allow them to preserve their language and culture. He pointed out that his own birthplace and that of Je Tsongkhapa are now part of Qinghai. He looked forward to genuine autonomy being granted in Uighur, Mongol and Tibetan regions.
Ms Yamasawa asked His Holiness how his successor would be chosen. He explained that as far back as 1969 he had made it clear that the choice of whether another Dalai Lama would be recognised rested with the Tibetan people. That choice precedes any decision about how a successor may be chosen. It could be that the traditional way of identifying a reincarnation will be followed, but there have also been cases of Lamas nominating an already living person as their successor.
He noted that at the end of this month a convening of leaders of Tibet's spiritual leaders will take place, primarily focussed on raising the quality of Buddhist knowledge and practice. The question of a future Dalai Lama may also be on the agenda.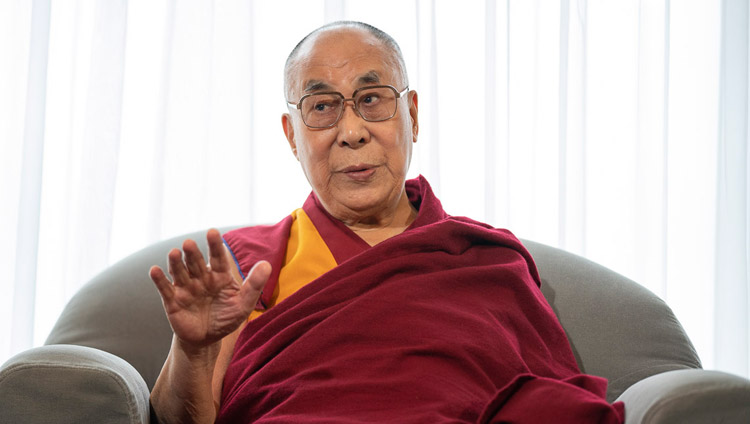 His Holiness observed that when he was recently in Europe a group of women met him to complain about the sexual misconduct of some Tibetan spiritual teachers. He told them that when such complaints were first brought to his attention he asked if such individuals had disregard for the rules the Buddha laid down, why they would listen to anything he had to say. He'd suggested that the shame of publicity might be more effective. He advised the group to forward their complaints to the meeting of spiritual leaders in a letter.
When Yamasawa steered the conversation back to the topic of his successor, His Holiness told her that some years ago, faced with similar questions from a journalist in New York he had taken off his glasses, as he did again today, and asked playfully, "Look at my face, is the need to address the question of my reincarnation urgent?" He told her that what happens after his death is of little interest to him compared to being a good Buddhist practitioner here and now. He repeated for her Shantideva's verse, which he takes as his motivating prayer: 'For as long as space endures and for as long as living beings remain, until then may I too abide to dispel the misery of the world.'
In his additional replies, His Holiness stressed that he advises followers of the Buddha today to be 21st century Buddhists, which he defines as driven by knowledge and understanding of what the Buddha taught rather than blind faith. He also discussed his admiration for democracy, his attempts to introduce reform in Tibet and his determination to do so once he and 80,000 Tibetans came into exile.
A second interview with Ms Yoshiko Sakurai, president of the think tank known as the Japan Institute of National Fundamentals, touched on several similar themes. As to how Tibetan traditions had been preserved, His Holiness emphasized how generous the government of India and Prime Minister Nehru had been in their support. It was Nehru who personally encouraged efforts to educate Tibetan children in separate Tibetan schools and to re-establish the monastic seats of learning. As a result of the latter, there are now more than 10,000 monks and 1000 nuns well-trained in the Nalanda Tradition.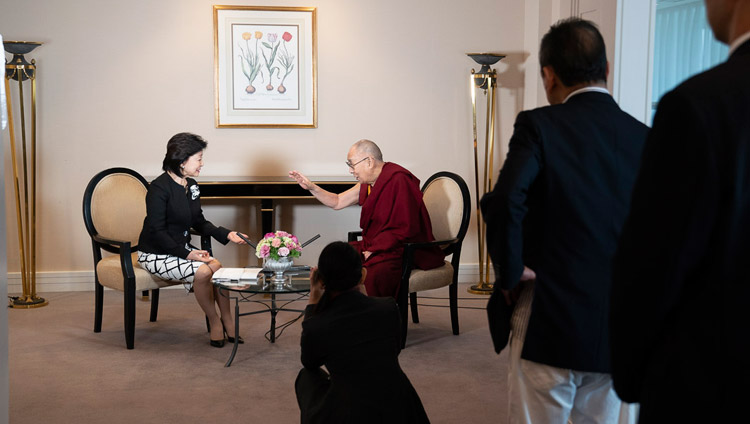 Referring to education in the wider world, His Holiness noted that it tends to have materialistic goals, whereas it would be better if it addressed the needs of both the heart and the brain. Specifically he recommended teaching people how to tackle their destructive emotions.
When Ms Sakurai lamented that the Chinese authorities seem to be doing little for Tibetans and Uighurs, His Holiness replied that he saw the past 70 years in terms of four eras affected by Mao Zedong, Deng Xiaoping, Jiang Zemin and Xi Jinping. Although the same party remained in power, guided by the same constitution, nevertheless great changes had taken place. He noted that there still remained room for further change. He also remarked that 1.2 million Chinese have a right to know what is really going on and when they know that, he expressed confidence in their ability to judge what's right from what's wrong.
His Holiness mentioned that in Tibet, even as suppression has increased, Tibetans have continued to pursue non-violence. He highlighted the cases of the more than 150 people who have committed self-immolation as examples, saying that they were very sad on the one hand, but on the other were worthy of admiration because they remained non-violent, at least in relation to others.
Asked how Japanese and Tibetans can contribute to the welfare of humanity His Holiness expressed his admiration for the Shinto Tradition due to its appreciation of the natural environment. He commended the possibility of combining technological development with a deep understanding of the workings of the mind to enable more people to find inner peace. He also expressed the hope that Japan, as the one country that has been subject to nuclear attack, will not let up on its leadership of the movement to eliminate nuclear weapons.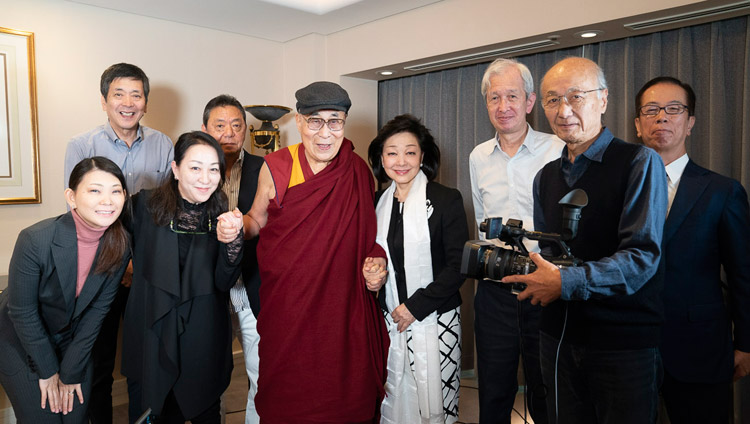 He reiterated that his cherished goals of a world not only free of nuclear weapons, but also demilitarized in general, will only come about when more people have achieved a sense of inner disarmament in their own hearts and minds. This, he suggested, is something to which Japanese brothers and sisters can contribute.