Debates at Gomang and a Move to Loseling
|
December 15, 2019
Mundgod, Karnataka, India – This morning, His Holiness the Dalai Lama listened attentively to more than a dozen debates in the Drepung Gomang Assembly Hall. Several took an assertion in Nagarjuna's 'Fundamental Wisdom of the Middle Way' as their starting point, discussing selflessness, the status of the aggregates in relation to the person, dependent arising and so forth. Following His Holiness's advice, the debaters employed logic and reasoning alone without turning to scriptural citation to support the point they were making.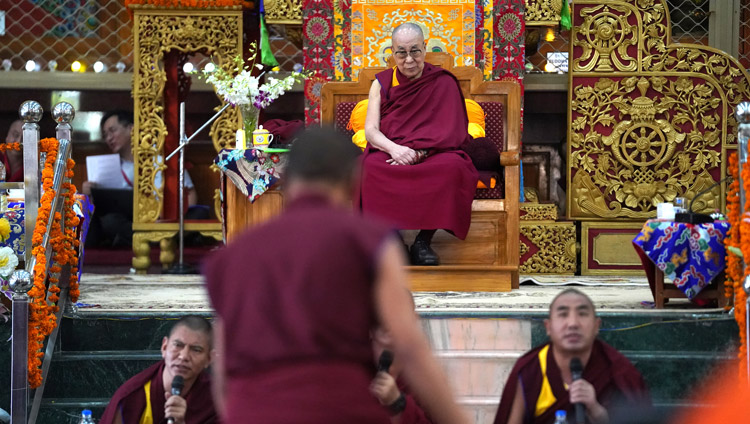 Debates over, His Holiness crossed the road to Drepung Loseling, where he was given a formal welcome. The Abbot accompanied him as he climbed the steps to the Assembly Hall, introducing Lamas and Tulkus of the monastery who were lined up to welcome him. Up by the throne His Holiness exchanged a few words with a local Swami who had come to meet him. He greeted the Ganden Throne-holder and other Gelukpa hierarchs before sitting down.
The prayer for His Holiness's long life composed by his two Tutors was chanted as tea and sweet rice were served.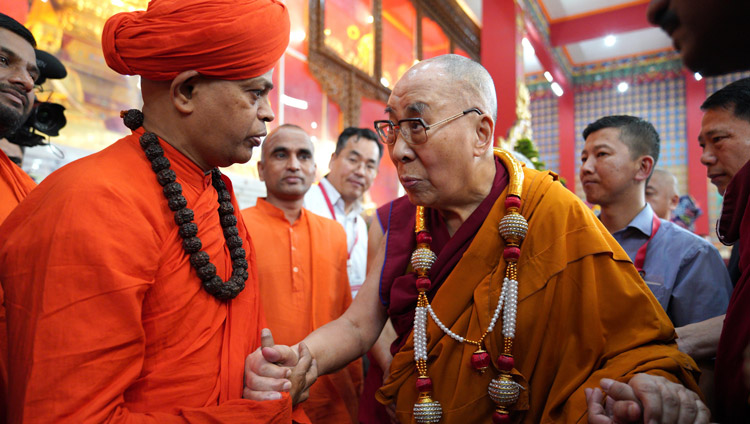 "I'd like to thank everyone who has gathered here today," His Holiness told the gathering. "Ling Rinpoché belonged to this monastery. He especially valued the text-books of Panchen Sönam Drakpa, whereas that other great master, Shagkor Khen Rinpoché, Gyen Nyima, favoured the works of Jamyang Shépa. Be that as it may, Drepung Loseling is a seat of learning that has historically produced many great scholars. Those of you who are supporters and patrons of the monastery can feel confident that none of your donations, large or small, are wasted. I'd like to thank you for supporting the efforts that are made here."
He then retired for the day to his quarters on the top floor of the building.