December 11, 2017
Drepung Lachi, Mundgod, Karnataka, India – This morning, His Holiness the Dalai Lama flew from Mumbai to Hubli. He was welcomed on arrival at Hubli airport by Sharpa Choejey Rinpoche, the Abbots of Drepung Lachi and Drepung Loseling, and a representative of Gaden Lachi. From the airport he drove to the Tibetan Settlement at Mundgod, where the road was lined with people, mostly Tibetans, young and old, monks, nuns and lay-people holding white scarves and flowers in their hands, happy to greet him as he passed. He was welcomed once more at the steps to Drepung Lachi Monastery by the former Ganden Throne-holder, Rizong Rinpoche and the Sharpa Choejey.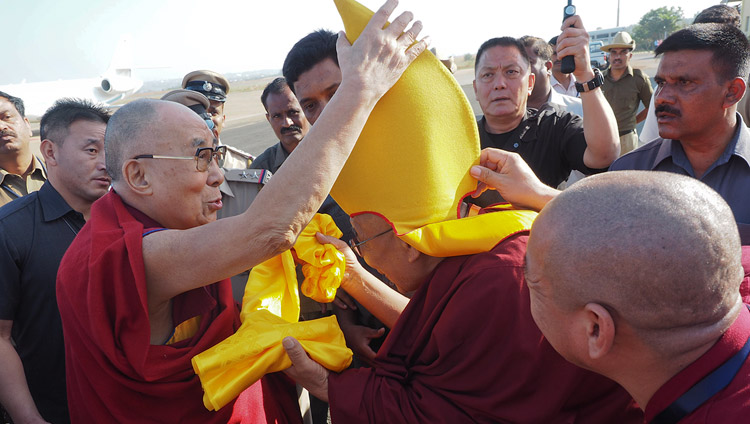 Inside the temple His Holiness paid his respects before the Buddhas and bodhisattvas and took his seat. Tea and sweet rice were served during a recitation of a prayer for His Holiness's long life. The Karwar DC offered him a scarf.
Addressing the assembled Abbots, former Abbots, high Lamas and teachers of philosophy, His Holiness explained that this year he wished to make brief visits to Sera, Drepung and Ganden Monasteries and that his main aim on this occasion was to ordain monks. In addition, he will inaugurate Drepung Loseling Monastery's Meditation and Science Centre and Sera Mey's new Debate Yard.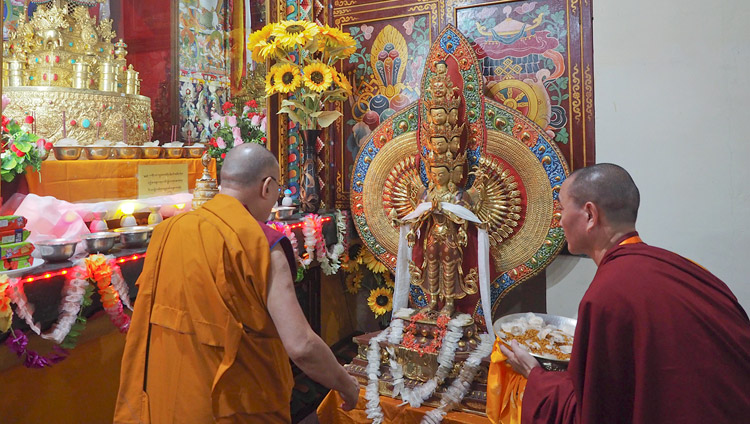 "I am very pleased to see all of you. Since coming into exile you have all worked to fulfil your worthy potential as human beings and as Tibetans. The Ganden Trisur Rinpoche, Rizong Rinpoche, from whom I have received many teachings, is here. He has served the Dharma to the best of his ability.
"During these difficult times for the teachings of the Buddha and for Tibet, everyone has done their best, which is a source of great merit. You'll be able to continue to serve the Dharma in life after life in the future. You've made your lives worthwhile—rejoice and dedicate the merit to enlightenment for the sake of all sentient beings.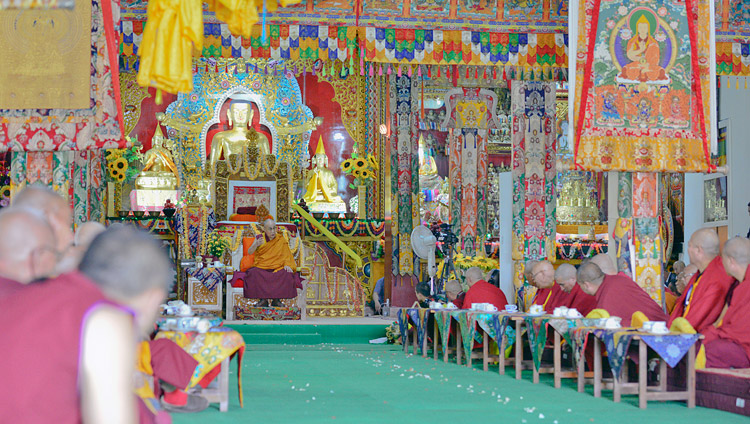 "Buddha Shakyamuni passed away more than 2500 years ago, masters like Nagarjuna have come and gone, but through the practice of listening and reading, reflection and meditation the Buddha's teachings have been preserved.
"As I regularly tell people, the Buddhism of Tibet is the pure Nalanda Tradition. It is a fount of understanding of the workings of the mind and emotions, logic and philosophy that has been preserved primarily at Sera, Drepung, Ganden, and to some extent Tashi Lhunpo. This is something to be proud of.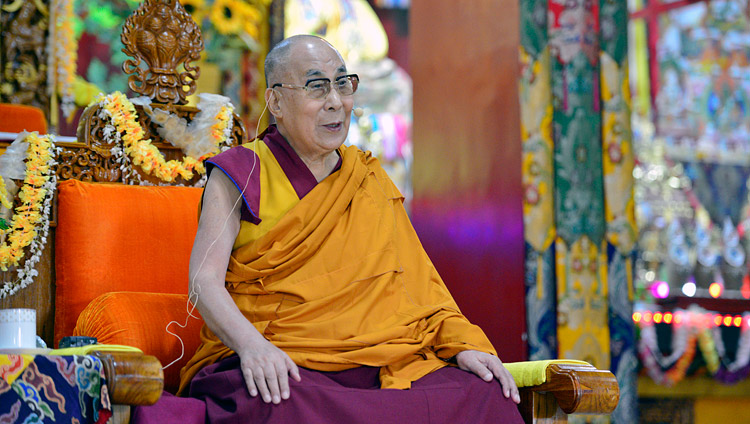 "Today, in the world at large there is an urgent need for compassion and non-violence. Understanding of the workings of the mind and emotions, and the use of logic which can contribute to their development, can be found in works of religious literature. But these explanations can be studied and followed in a secular and academic way. This is why I'm making an effort these days to revive ancient Indian knowledge among contemporary Indians."
His Holiness recalled that Sera and Drepung have had a special link to the Dalai Lamas since the time of the Second, Gyalwa Gendun Gyatso. Noting that tomorrow is Ganden Ngachö, the anniversary of Je Tsongkhapa's passing away, he asked how the day is customarily observed here. He then suggested that he offer a short teaching tomorrow morning in the Drepung Loseling Debate Yard.