Bambolim, Goa, India – After coming down from Ladakh last Saturday, His Holiness the Dalai Lama spent two days in Delhi in the course of which several people came to see him. Among them were members of a Thai-Tibetan Exchange Program.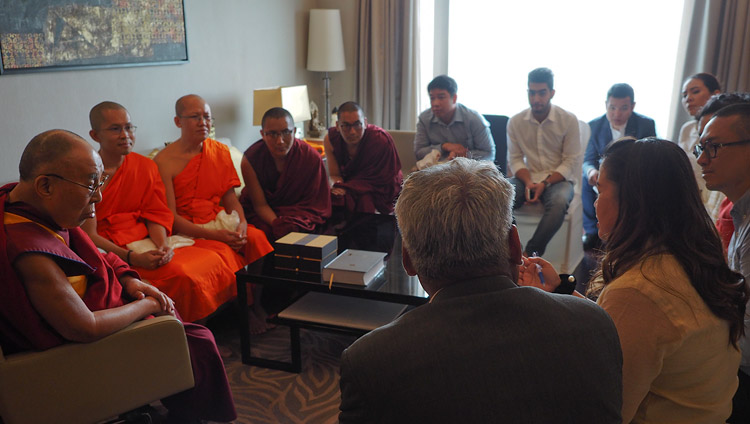 "I am very happy that we are making a new beginning to build closer ties between the Thai and Tibetan traditions," His Holiness told them. "In the 1960s we sent four monks to Bangkok and they learned the Thai language and so forth, but the connection lapsed.
"Buddhism teaches that we are responsible for our own actions. To begin with the Buddha was an ordinary being like us, but as a result of intense practice over a very long time he eventually became enlightened at Bodhgaya. He taught that we all have Buddha nature and emphasised not just prayer but training the mind.
"When the Buddha's teachings were introduced to Tibet in the 8th century by Shantarakshita, he established the practice of Vinaya, the foundation of the Buddhadharma, by ordaining the first seven monks. To this day, we also maintain the practice of the Vinaya in common with other Buddhist traditions."
Representatives from the Thai side told His Holiness they were proposing to hold a two day conference in Bodhgaya in February 2019 on Engaged Buddhism. The aim would be to explore how Buddhist wisdom and advice can be more accessible to the general public in the 21st century. His Holiness gave his encouragement and support.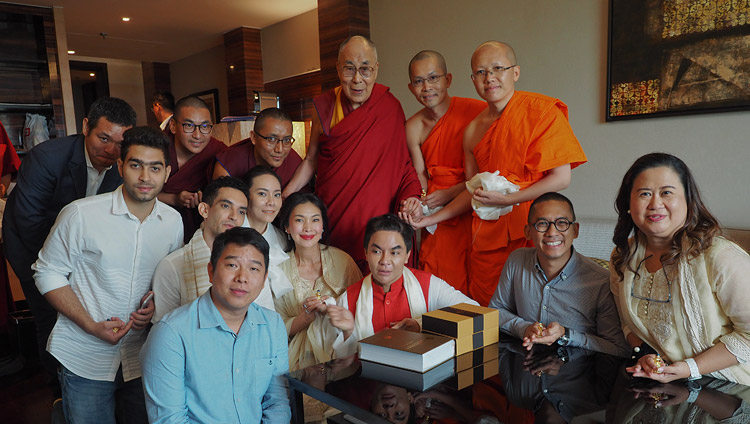 In a separate conversation with Nobel Peace Laureate, Kailash Satyarthi, His Holiness talked about how he is committed to trying to revive ancient Indian knowledge in contemporary India.
"Only India can combine modern education and a drive for material development with an understanding of the workings of the mind and ways to tackle destructive emotions. I feel there is a need to revive ancient Indian knowledge today. Such knowledge can make a significant contribution to more widespread peace of mind."
Satyarthi told His Holiness that he believes anger, in the sense of righteous indignation about injustice, can be a positive source of energy. His Holiness replied that anger may indeed unleash energy, but it tends to be blind and unfocussed. However, he did concede that there is such a thing as forceful compassion.
In the context of proposals to celebrate the 150th anniversary of Mahatma Gandhi's birth His Holiness agreed that India should take a lead in presenting ahimsa—non-violence to the world. He remarked that at the time of the freedom struggle there were those who dismissed non-violence as a sign of weakness, whereas today more and more people appreciate that it is actually a sign of strength. He clarified that the motivating factor should be karuna or compassion, while the action and conduct that springs from it is ahimsa or non-violence.
Satyarthi told His Holiness he was interested in how to make karuna into a social movement.
"If you have a realistic understanding of the situation and take a wider perspective on it you can expect positive results," His Holiness replied, "problems arise when you make an unrealistic and narrow-minded assessment of the situation."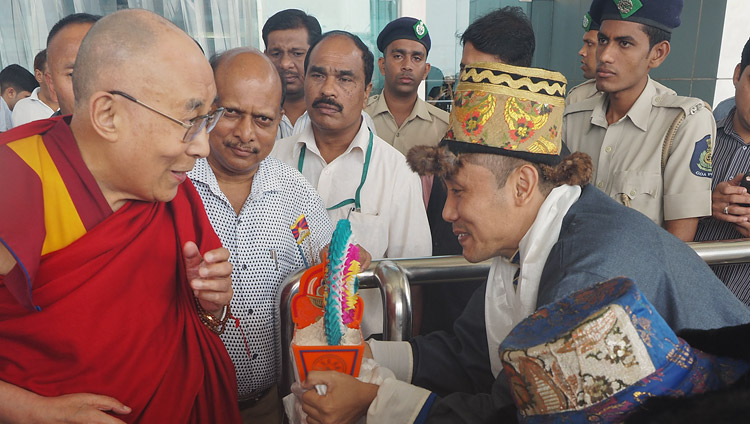 This morning, His Holiness left Delhi for Goa, where he will speak tomorrow at the Goa Institute of Management as part of its 25th anniversary celebrations. He was met on arrival at Dabolim Airport by the Director of the Institute, Ajit Parulekar and the Chairman of the Board, Ashok Chandra and a local MLA. From the airport His Holiness drove to his hotel, where he retired for the day.