Visit to Shri Udasin Karshni Ashram
|
September 22, 2019
Mathura, UP, India – Leaving Delhi early this morning, His Holiness the Dalai Lama drove to the city of Mathura on the banks of the Yamuna River, where he was the guest of Swami Karshni Gurusharanandaji Maharaj. On arrival at Shri Udasin Karshni Ashram he was received by ashram staff and escorted to his room, where Maharaj-ji joined him.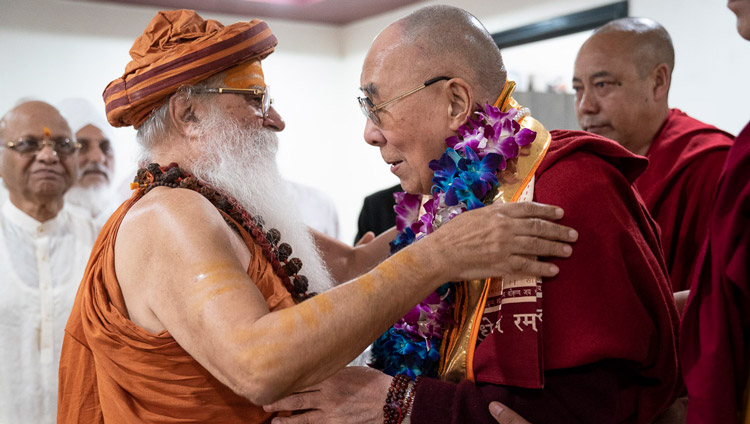 After a short rest, His Holiness proceeded to the main Krishna Temple to pay his respects. Maharaj-ji accompanied him to a seat on the dais and led temple priests in performing a ritual ablution, as a mark of respect, which involved washing His Holiness's feet with milk, yogurt, saffron, ghee and sandalwood. This was followed by the recitation of a Guru Puja and other offerings to His Holiness including recitations from the Four Vedas.
Addressing the gathering, His Holiness told them how moved he felt to listen to the sonorous chanting in Sanskrit.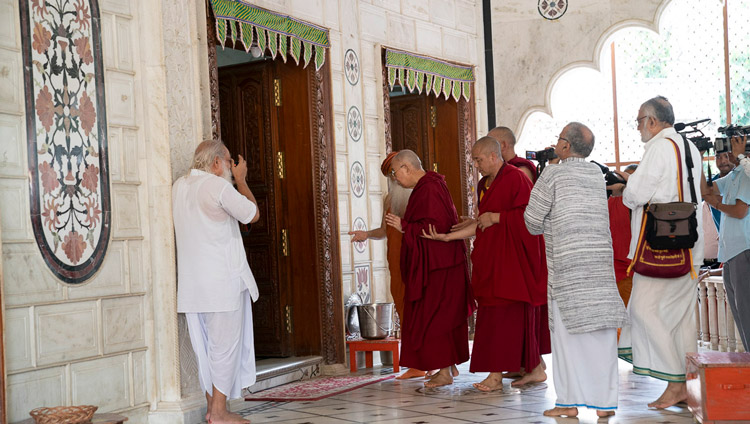 "When I was young I learned Sanskrit from the Kalapa manual, but found it quite difficult. India's most ancient philosophical tradition, the Samkhya School, employed Sanskrit, as did the later Jain and Buddhist traditions. Buddhist literature was recorded in both Pali and Sanskrit, but masters at Nalanda University, such as Nagarjuna, Asanga and Buddhapalita, all wrote in Sanskrit. Indeed, scholars today have told me that the quality of writing to be found in Nagarjuna's 'Mulamadhyamikakarika' and Dharmakirti's 'Pramanavartika' is of the highest standard. The study of Sanskrit and grammar was included among the Five Major Sciences we pursued in Tibet. Therefore, we regard Sanskrit with great esteem. I'd like to thank you for your beautiful recitations.
"Central to ancient Indian tradition was the practice of 'ahimsa', non-violent conduct, motivated by 'karuna', compassion, notions that remain relevant today, not only in India, but in the whole world. I believe that it is because of thes factors that India has also long been an example of religious tolerance, something else the world could learn from. I am also convinced that, while studying modern subjects such as science and technology, Indians should try to preserve the knowledge of the workings of the mind and emotions that evolved here in ancient times, because it can be of benefit to all 7 billion human beings alive today, whether they are religious or not."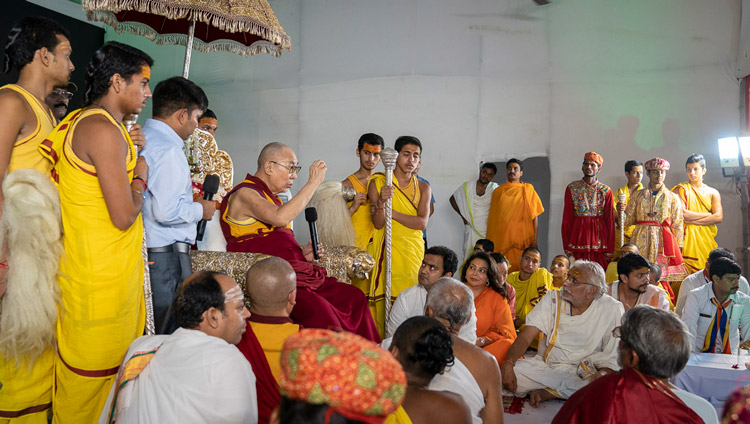 His Holiness remarked that scientists report that it is basic human nature to be compassionate. However, education should pay more attention to developing and extending it. He mentioned how valuable it would be if students were trained in emotional hygiene, the ability to tackle their afflictive emotions and achieve peace of mind, from kindergarten up to university. He expressed confidence that Maharaj-ji and the members of his ashram are making an effort to preserve such traditions.
His Holiness joined Maharaj-ji and the monks of the ashram sitting on the floor for lunch. Ashram students chanted beautiful verses during the meal that was served in traditional fashion on leaves and in earthenware bowls.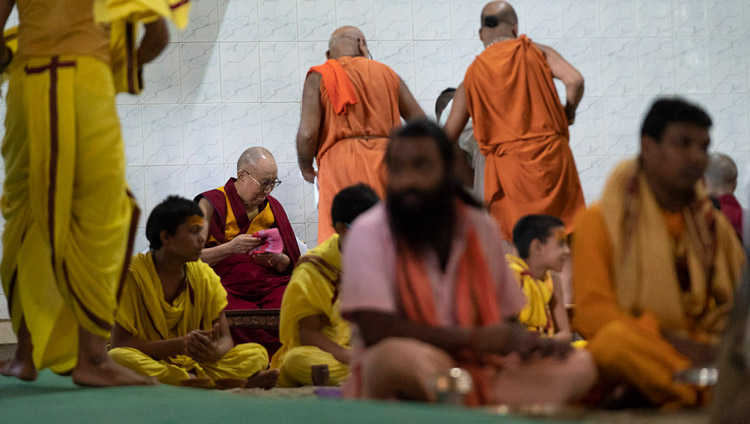 Back in his room after lunch, His Holiness briefly discussed tomorrow's program with Maharaj-ji, in the course of which he expressed a hope that they could spend some time in the morning meditating together.