Three Days in Zanskar July 19, 2017
|
Leh, Ladakh, J&K, India – On the day following his return by road from the Nubra Valley, Sunday, 16th July, His Holiness the Dalai Lama flew by helicopter from Leh to Padam, capital of Zanskar. He was welcomed on arrival by local officials and members of the committee that had organized his visit.
At the Zanskar Health Care & Sowa Rigpa Research Institute, which has received funding support from the Dalai Lama Trust, His Holiness unveiled a plaque marking the Institute's inauguration and said auspicious prayers. Tea and sweet rice were served. The Chairman, Ven Chosphel Zodpa, introduced the occasion. In addressing the 3000 people in attendance, His Holiness paid tribute to the volunteers from abroad, mostly doctors and nurses from the USA and dentists from Italy, who have been treating the local people. He expressed appreciation of their dedication to providing health care where it was most needed in this remote and under-developed region.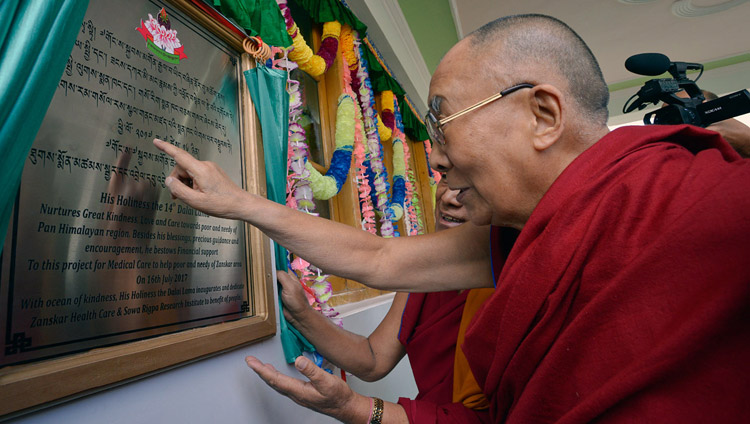 At the Old Phodrang, the Zanskar Representative of the Ladakh Buddhist Association offered the mandala and the threefold representation of the Buddha's body, speech and mind. Traditional tea and sweet rice were again served. His Holiness remarked, "Wherever I go in the world, over and again, I talk about the importance of religious harmony. All our religions convey a common message of love and compassion. So it saddens me to hear reports of discord between the members of different faith communities. Social harmony and friendship are crucial. Try to think about the broader community and how we all participate in the oneness of humanity."
Speaking to an estimated 10,000 people who came to attend his teachings on Monday, 17th July, His Holiness again raised the importance of putting effort into cultivating religious harmony. He added that there is also no place in Buddhist practice for discriminating on the basis of caste. He stressed that the Buddha had been clear that caste and family background were of no relevance when it came to upholding the Dharma.
"People should take the opportunity to study—just relying on blind faith is no longer enough," he said. "For more than forty years I have been encouraging monasteries that used to concentrate mostly on performing rituals and nunneries to develop programs of study. One clear result is that last year we were able to award the first twenty nuns the Geshe-ma degree in recognition of their educational accomplishments. When I first urged nuns to become learned, some voices were raised in resistance and I retorted that if the Buddha bestowed full Bhikshuni ordination on women, why shouldn't they also gain an education?"
When it came to serving tea, efforts were made to ensure that representatives of the whole community took part and that from among those who had previously felt excluded some had the opportunity to serve His Holiness.
"Tibetans and Ladakhis are people with a special link to Chenrezig," His Holiness told the audience, "so I thought it might be good this time to give the Avalokiteshvara empowerment and explain 'Mitrayogi's Three Essential Points',which deal with how to practise in this life, as you approach death and in the intermediate state in relation to Chenrezig."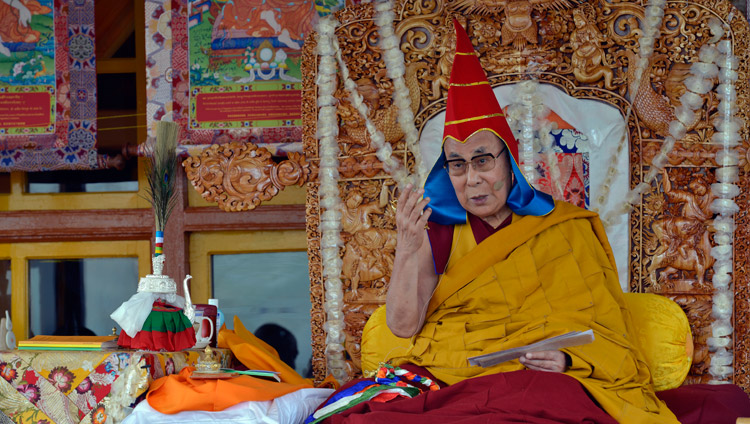 As part of the empowerment process His Holiness gave the Bodhisattva vows—explaining that it was an opportunity to take them afresh or restore any lapse in observing the precepts.
To begin his teachings on Tuesday, 18th July, His Holiness first gave a transmission of the 'Praise to Manjushri', known in Tibetan as 'Gangloma', to school-children in particular. He told them that in his experience reciting this prayer three times a day as effective in sharpening the mind.
"Yesterday, you received the Chenrezig blessing which is related to the practice of compassion and today this Praise to Manjushri is related to the practice of wisdom. You need both of them, wisdom and compassion together, to reach Buddhahood."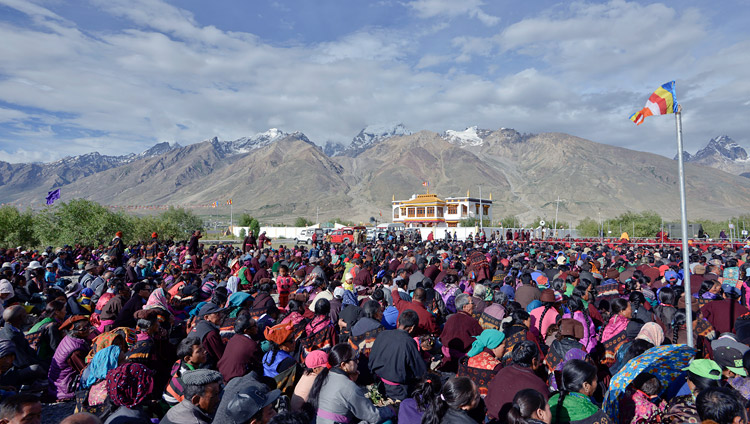 In giving a Medicine Buddha permission, His Holiness spoke of the importance of good health and the decisive role in that of cultivating peace of mind. He completed his reading of 'Mitrayogi's Three Essential Points' and before a Long-Life Ceremony was offered to him explained that the purpose of the Guru and disciple meeting like this was for the teacher to have a real sense of helping his or her followers understand how essential it is to cultivate both wisdom and a warm heart. "This is what I try to do, and I want to share it with you. Your job now is to pay heed to what I have said and keep up the practice—that's how you too will gain experience."
In the afternoon, His Holiness was the guest of the Anjuman Moen-Ul-Islam at the local Muslim school. In his remarks His Holiness reiterated the importance of maintaining religious harmony and told his friends that he had also said as much to the Buddhist community. He encouraged both communities to be friendly and to continue to invite each other to their various festivals and celebrations. With a twinkle in his eye, His Holiness told his hosts how much he enjoyed their delicious snacks.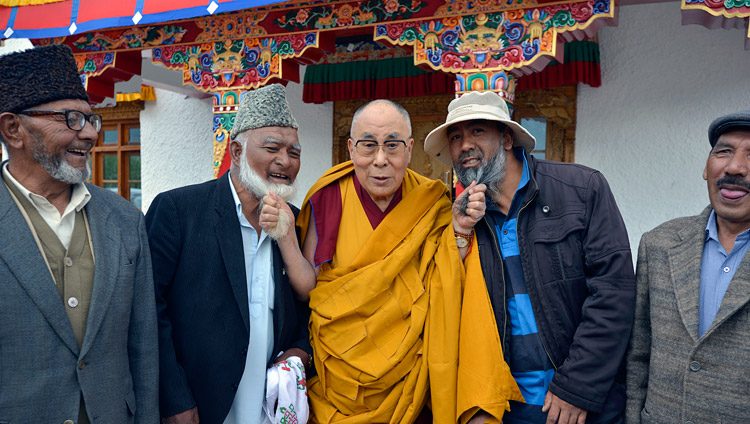 This morning, Wednesday, 19th July, His Holiness took off early in a helicopter and flew up the Zanskar and Lingshed Valleys to return to Leh. On arrival he was requested to visit a new cremation facility set up near the airport. In his introduction, the Director of the Central Institute of Tibetan Studies explained that in Ladakh use of cremation facilities is often restricted to residents of the specific localities in which they are set up. Consequently, people from outside occasionally face problems in disposing of their dead. This new facility will be open to Buddhists, whatever their origin, as well as visitors from other parts of India and abroad. The Director mentioned that we are all going to die and the location of this ground prominent in the vicinity of the airport would also serve as a visible reminder of impermanence.
His Holiness said brief prayers to bless the ground and consecrate a statue of Amitabha standing over it, before returning to his residence at the Shiwatsel Phodrang.
Source: https://www.dalailama.com/news/2017/three-days-in-zanskar