Meeting the Mundgod Community
|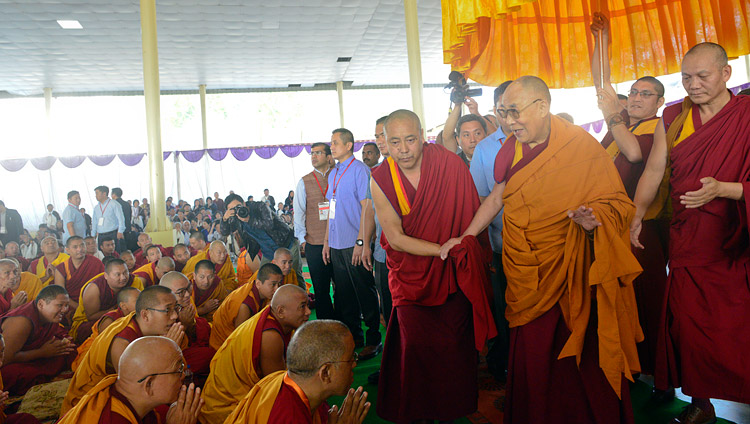 "After I reached here yesterday, I thought that I would like to meet and talk to the public," His Holiness explained. "I've had a long acquaintance with this land. I was here when we first began to clear the trees and bushes and I wanted to meet those of you who live here now, especially the schoolchildren. This nearly 83 year old man has some difficulty climbing up to the throne, but once I've sat down I can talk and talk. There've been a lot of changes here. Nearly all those who were here to begin with have gone. The original school teachers have gone and in those early days, those of you who are schoolchildren now were still living your previous lives.
"We came into exile not because of famine or to secure our own livelihoods, but to preserve our culture and traditions that were under threat at home. Because we were intent on preserving our identity we asked to be able to create our own settlements. We also asked for help to set up separate schools so our children could learn their own language and culture as well as receiving a modern education. Prime Minister Jawaharlal Nehru took a great deal of personal responsibility for fulfilling our requests.
"Monks who'd escaped were gathered in Misamari in Assam where the climate was unfavourable. They were initially shifted to Buxaduar, but we continued to ask the Government of India's help in finding more suitable long term settlements. The first and most amenable response to requests to make land available to Tibetans came from Karnataka, then Mysore State, under the leadership of Nijalingappa. In settling here we aimed to preserve our culture and religion and represent our brothers and sisters still in Tibet. Like all Tibetans living in free countries, we have done what we can.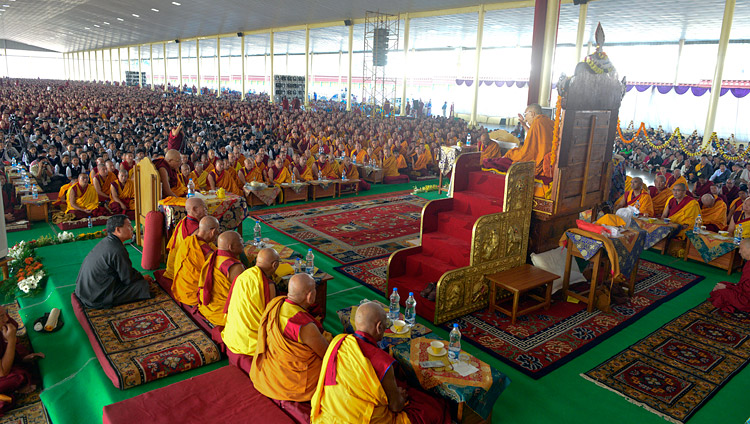 "Today Buddhism attracts interest from across the world, even among scientists. I believe the Nalanda Tradition's logical and reasoned approach has facilitated that. I also believe this tradition includes knowledge about achieving peace of mind that is highly relevant in today's world. When, more than 30 years ago, I mentioned to an American friend my interest in holding discussions with scientists, she warned me that science is a killer of religion. I thought about it and felt that since we followed the Buddha's advice to examine and investigate his teaching, only accepting what was logically consistent, Buddhism should be able to hold its own."
His Holiness went on to talk about the 20th century as a period of extensive warfare. He added that even today people persist in thinking that problems can be solved by the use of force. In fact it doesn't help. Instead the use of violence means many people get hurt. He reiterated his commitment to promoting love and compassion in the world—the idea that if you have a warm heart, you'll be happy. This is consistent with scientific findings that basic human nature is compassionate. The care we receive when we're born sows a seed of compassion in each of us, but it needs to be nurtured as we grow up. This is something modern education seems unable to do because it is more focussed on materialistic goals.
His Holiness stressed the importance of addressing problems from a wider perspective, looking at them from other angles. It's one thing to talk about peace, he said, but at root it requires people developing peace of mind. Without individuals finding inner peace there will be no peace in the world.
He also spoke of being committed to fostering inter-religious harmony. He cited his admiration for the way all the world's major religions live together and flourish in India and have done so for generations. He declared that since all religions convey a message of love and compassion, they ought to be able live in harmony with each other.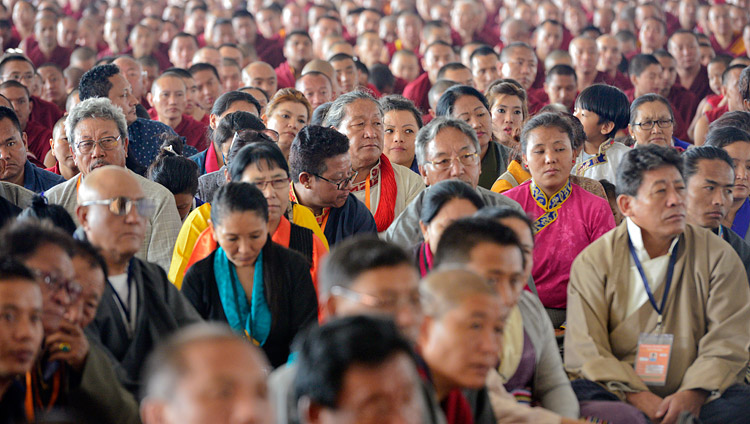 "I am also committed to Tibet," His Holiness continued. "Since the time of the Fifth, the Dalai Lamas have been responsible for both the spiritual and temporal affairs of Tibet. However, even during my childhood I was aware of the shortcomings of too much power in too few hands. Once I had the opportunity I introduced a reform committee, but it was unsuccessful because the Chinese wanted reforms to be done their way. Soon after coming into exile, I encouraged the introduction of democracy and the setting up of an elected assembly. Following the election of Samdhong Rinpoche as Kalon Tripa in 2001 I semi-retired and after Dr Lobsang Sangay was elected leader in 2011 I fully retired. As you know, I also happily and confidently put an end to the tradition of the Dalai Lama's taking dual responsibility for Tibet's affairs.
"Earlier this year I was in Assam, flying from Guwahati to Dibrugarh. The plane flew into such turbulence that I seriously feared I might lose my life. I wasn't so concerned for myself, but the question arose in my mind, 'What would become of the six million Tibetans who've placed their hopes in me?'
"I am determined to draw attention to the need to protect Tibet's natural environment, bearing in mind that more than 1 billion people across Asia depend on the river waters that flow off the Tibetan plateau, and remain concerned to keep our Tibetan culture alive."
His Holiness recalled the crucial role India played in the introduction of Buddhism to Tibet. When Thönmi Sambhota was commissioned to develop a Tibetan mode of writing, he turned to India for inspiration. When Emperor Trisong Detsen looked for someone to bring Buddhism to his country, again he turned to India and invited Shantarakshita. Most of the Buddhist literature translated Tibetan came from Indian Sanskrit sources. The classic volumes that continue to be studied today are the works of seventeen masters of Nalanda. As Je Tsongkhapa said, "Although Tibet may have been bright as the Land of Snows; it remained in the dark until illuminated by the light of knowledge that came from India.
His Holiness reported that he regularly tells Indian friends that traditionally Tibetans regard Indians as having been Gurus, while they were chelas or disciples. Nevertheless, Tibetans have turned out to be reliable chelas because they've not only preserved what they were taught, but they are now more familiar with ancient Indian knowledge than many Indians today. He added that Chinese Buddhists too have told him that, whereas their own monks focus on prayers and rituals, they've found Tibetan Lamas much more capable of giving clear explanations.
"We don't depend on faith; we rely on reason and logic. This gives us the liberty, for example, to question the accuracy of traditional Buddhist cosmology. In the 60s, a Chinese document proclaimed that Tibetan Buddhism rested on blind faith and there was no need to oppose it because it would wither away in the face of science. That hasn't happened.
"Je Rinpoche declared that in the beginning he studied extensively, in the middle he came to see all he'd learned as instructions and in the end he engaged in practice day and night. He advised his followers to study the works of the Two Ornaments and Six Supremes—the great Indian masters. I urge those of you who have completed your Geshe studies to go on and study further. Read the great texts thoroughly. Today, being the commemoration of Je Rinpoche's passing away, I commend you to read his commentaries on Nagarjuna's 'Fundamental Wisdom of the Middle Way', Chandrakirti's 'Entering into the Middle Way' and Aryadeva's 'Four Hundred Verses'.
"These days I am committed to reviving interest in ancient Indian knowledge of the workings of the mind and emotions among contemporary Indians. I tell my Indian friends that we have several thousand scholars qualified to teach and assist in this project. In addition to scholarly monks, we now have Geshemas among the nuns too, twenty of whom graduated last year. And I'm clear that although we find a science of the mind in our religious literature, there is no reason why it can't be analysed and applied in secular, academic way. If we fulfil this it will be of great service to humanity."
His Holiness proceeded to lead a ceremony to generate the awakening mind of bodhichitta according to the approach of Purchog Ngawang Jhampa focussing on the popular single verse for taking refuge and generating the awakening mind. He followed this with transmissions of the mantras of the Buddha, Manjushri, Avalokiteshvara and Arya Tara and concluded by exhorting the students in the audience in particular to think about furthering the cause of love and compassion in the world.
Finally, His Holiness invited all assembled to join him in reciting a prayer he wrote in the 70s invoking the protectors of Tibet that begins, "Kye, Kye, through the power of merit and aspirational prayers…"
Tomorrow he will be giving monks ordination.
Source: https://www.dalailama.com/news/2017/meeting-the-mundgod-community