Meeting a Group of Mongolians
|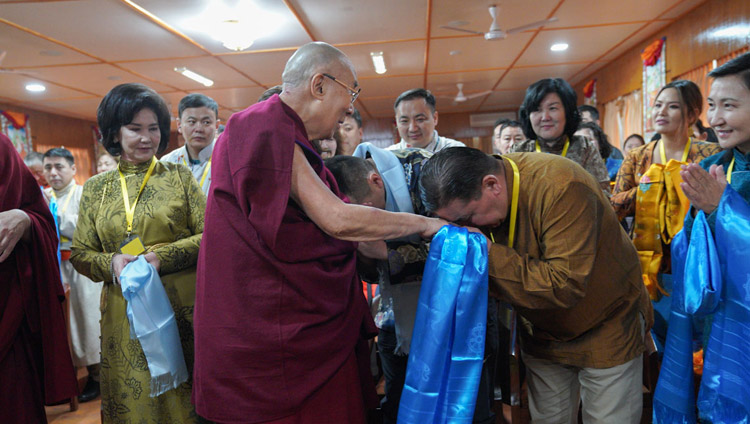 "Even before the spread of Buddhism, Tibet and Mongolia were neighbours sharing a common border. Historians from the Tang Era referred to Mongolia as distinguished by military strength, China as concerned with politics and Tibet as focused on the Buddha Dharma."
His Holiness pointed out that Buddhism was established in Tibet during the 8th century and that the works of eminent masters of Nalanda University became the monks' textbooks. He recalled that Buddhism had been introduced to Mongolia in three phases beginning with its spread through Central Asia during the first millennium CE. The second phase, in the 13-14th centuries, involved Drogön Chögyal Phagpa, who was invited from Tibet. In the 16th century, the 3rd Dalai Lama Gyalwa Sönam Gyatso introduced the teachings of Tsongkhapa, which spread throughout the country. In due course, Mongolia and the Mongolian states of Buryat, Kalmykia and Tuva gave rise to many eminent Buddhist scholars.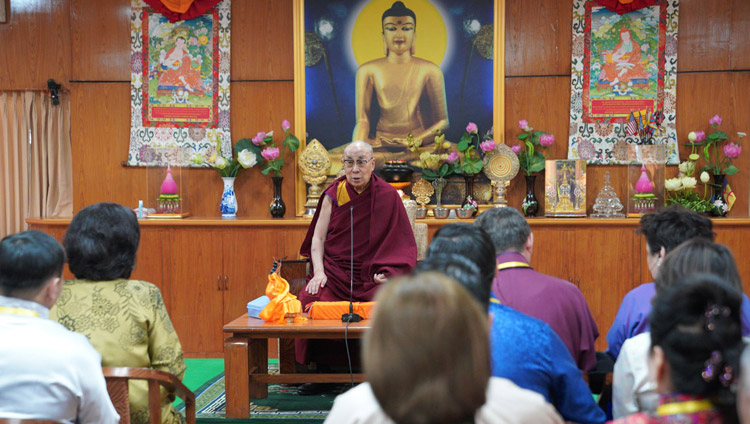 "When I first visited Mongolia in 1979, although Mongolia was still under communist rule, I was impressed to see how faith in the Dharma had survived. Faith, which is a part of all religious traditions, is passed down from generation to generation. However, in the Nalanda Tradition faith is augmented by reason and philosophy. At the present time it's important that we become 21st century Buddhists with a sound understanding of what the Buddha taught.
"In an age of science and technology, mere faith and prayer are not sufficient. Buddhists need to understand the Buddha's teachings. Studying the works of the Nalanda masters can help that understanding to grow. Study, critical reflection, and meditative practice can help us make the Dharma part of our lives. Buddhism is Mongolia's traditional religion, but if its practice is based on faith alone, it may not survive into the coming decades. However, if its practice is founded on logic and reason, it may survive for several centuries."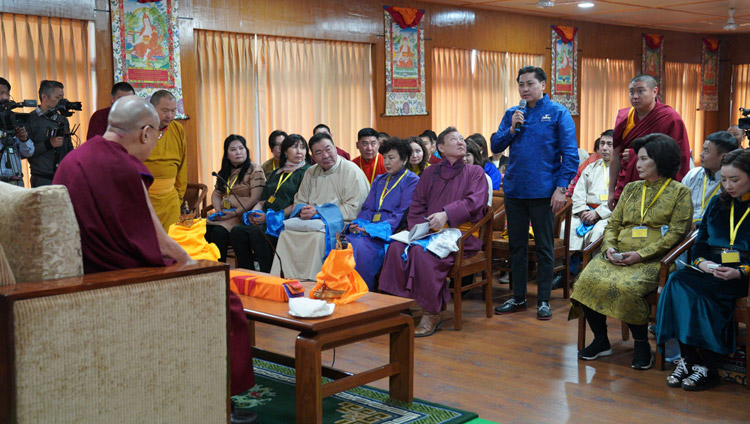 His Holiness remarked that it is because Buddhism from the Nalanda tradition is founded on reason and logic that recent interaction with modern scientists has been fruitful. Buddhists have learned a great deal from scientists about the external world, while they in turn are learning from what Buddhism has to say about the workings of the mind and emotions.
His Holiness expressed delight that several hundred Mongolians are now studying at the monastic universities in south India. He looked forward to their being able to contribute to the revival of Buddhism in Mongolia, Buryatia, Kalmykia and Tuva.
In answering questions from the audience His Holiness emphasized the need to train the mind. Noting that whether or not you choose to observe a religious practice, everyone needs to be guided by a sense of ethics, therefore he encourages people to take an interest in secular ethics. He suggested that observing secular ethics is equivalent to the basic sense of warm-heartedness cultivated by Tibetan and Mongolian Buddhists.