His Holiness the Dalai Lama Travels to Bhubaneswar, Odisha
|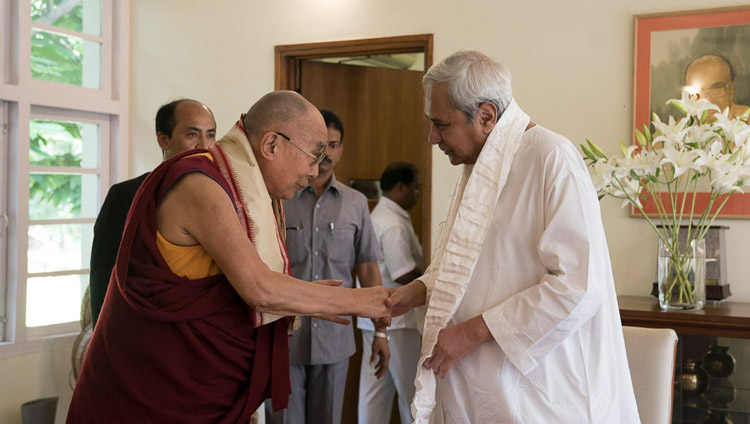 After a comfortable two hour flight from Delhi, His Holiness arrived at Biju Patnaik International Airport, Bhubaneswar. He was received on behalf of the State Government of Odisha by Surya Naryana Patra, Minister for Civil Supply & Consumer Affairs; Ashok Panda, Minister for Culture & Tourism; Mrs Mona Sharma, Principal Secretary for Tourism and Nitin Jawale, Director of Tourism. Prof Achyuta Samanta, founder of Kalinga Institute of Industrial Technology (KIIT) and Kalinga Institute of Social Sciences (KISS), who extended the invitation to His Holiness, the Phuntokling Tibetan Settlement Officer and Lhunpo Rinpoche, were also on hand to welcome him.
Outside the airport Tibetans who are settled in Odisha had gathered to greet His Holiness, who laughed and waved to them. A scrum of members of the media were also eager to record his arrival and he had a few words for them about the need for people to gain better control of their negative emotions to be able to contribute to a more peaceful world.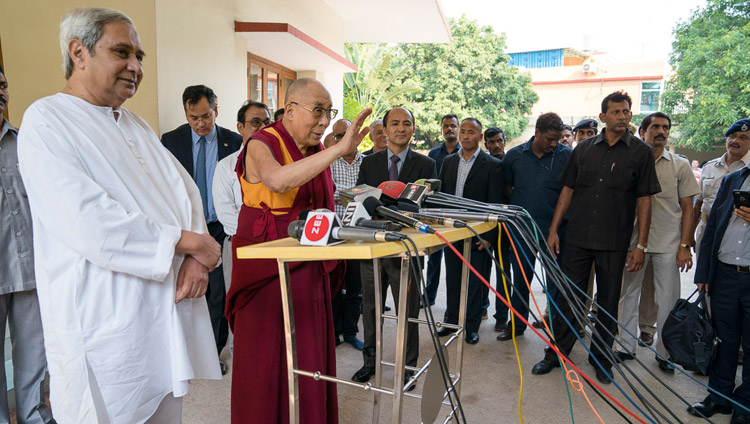 Odisha Chief Minister, Naveen Patnaik received His Holiness at his residence and the two shared a few minutes conversation. Once again His Holiness spoke briefly to members of the media outside, acknowledging that Mr Patnaik is one of the longest serving Chief Ministers in the country. He also expressed gratitude for the hospitality shown to Tibetans who have settled in the state. Arriving at his hotel, His Holiness retired for the day. Tomorrow, he will speak to more than 20,000 students at the Kalinga Institute of Social Sciences.