December 12, 2019
Mundgod, Karnataka, India – His Holiness the Dalai Lama flew from Goa to Hubli this morning and from there drove to the Tibetan settlement at Mundgod. Hundreds of people, monks and nuns, lay-people, students in school uniform, lined the road, white scarves in their hands, waiting excitedly to greet him.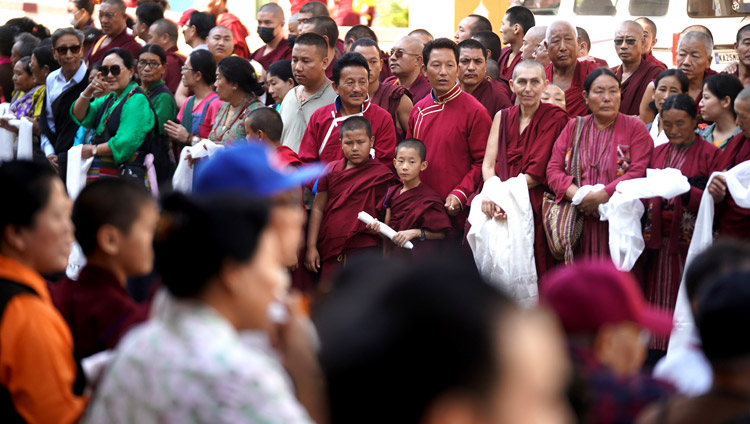 Rumbling long horns from the roof of Drepung Lachi heralded his arrival. When his car swept into the courtyard, the former Ganden Throne-holder, Rizong Rinpoché, the incumbent Ganden Throne-holder and the Sharpa and Jangtsé Chöjés were there to welcome him. Climbing the steps and walking up the middle of the assembly hall he waved and stopped to greet many old friends he spotted in the crowd on either side. He saluted the various sacred images behind the throne and paid a short visit to the Protector Chapel, before taking his seat at the head of the hall.
Tea and ceremonial sweet rice were served while the Chant Master led a recitation of the Prayer for His Holiness's long life composed by Ling Rinpoché and Trijang Rinpoché.
"The abbots and monks of Drepung are here, as are the Ganden Throne-holder and the two Chöjés," His Holiness observed. "I've just come from Goa, where the Abbot of Loseling has made connections with Goa University. In addition, the university has launched a Chair of Nalanda Studies. I talked to them about the 3000-year-old Indian traditions of 'ahimsa' and 'karuna', as well as 'shamatha' and 'vipashyana'. I told them that if we can revive interest in these aspects of ancient Indian wisdom and combine them with modern education, it'll be very good.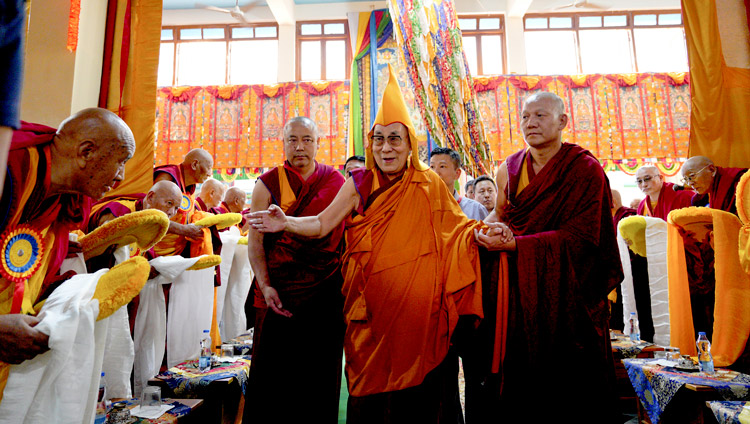 "Modern education is good for securing material development, but ancient Indian wisdom is about the mind. We Tibetans have kept it alive in theory and practice, not only the religious content, but the psychological and philosophical aspects too. These deserve academic scrutiny, and Goa University is interested in this.
"Today I've come to Drepung and I'll be in Ganden for the commemoration of Jé Tsongkhapa's 600th anniversary. Alas, there is no time for me to visit Sera, but I plan to come to Bengaluru in March when there'll be an opportunity to visit Sera Jé, Sera Mé, Tashi Lhunpo and Namdrolling.
"Growing numbers of people are taking interest in Buddhism. Scholars and scientists are particularly interested in Buddhist psychology. Several Buddhist traditions exist in a number of Buddhist countries, but the Nalanda Tradition's approach, hinging on reason and logic, is preserved only among us Tibetans. Almost none of the works by Dignaga and Dharmakirti were translated into Chinese.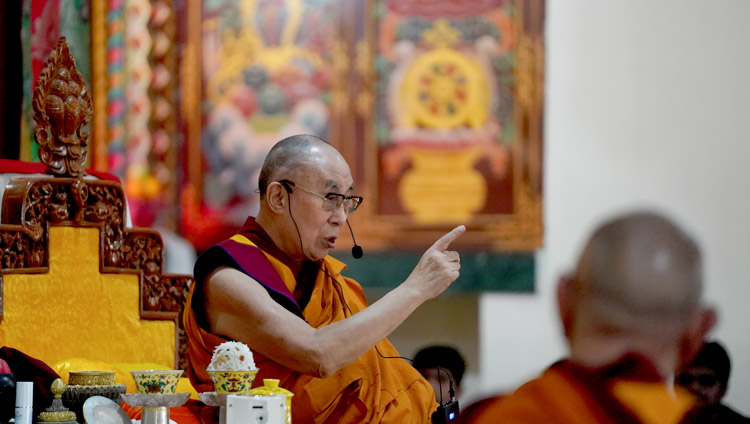 "As you know, we memorize the fundamental texts and then examine them word by word, after which we debate with each other about what we've learned. This approach spread to Mongolia. The Sakyas study 13 great texts in a similar way. As Haribadra remarked intelligent followers employ reason and logic and pursue the three sources of knowledge: study, reflection and meditation. If we can maintain this course, Buddhism will flourish for centuries more.
"Glorious Drepung was known as the Nalanda of Tibet. It has a long association with the Dalai Lamas. Gendun Drup founded Tashi Lhunpo. His reincarnation, Gendun Gyatso had visions. When it became inconvenient for him to stay at Tashi Lhunpo in Tsang, he set off for Lhasa. After the Drepung Abbot, Kunkhyen Legpa Chöjor dreamt of an illustrious visitor to the monastery, he sent his attendants to bring the prospective guests to him. Gendun Gyatso joined Drepung and in due course became its Abbot. The Ganden Phodrang was begun at this time. He also served as Abbot of Sera.
"I'm very happy to be here where students are working hard to uphold the Nalanda Tradition. In each of the Seats of Learning we start with the small Collected Topics and go on from there, year by year. Your hard work contributes not only to the flourishing of the Buddha Dharma, but also to welfare of the Tibetan people. Keep in mind what Jé Rinpoché wrote:
In the beginning I sought much learning,
in the middle the teaching dawned on me as spiritual instruction
and in the end, I strove day and night in practice.
I dedicate the merit that the Dharma may flourish.
"The Buddha was unusual among the teachers of the world's great religions, because he encouraged his followers to question what he taught. 'As the wise test gold by burning, cutting and rubbing it, so, bhikshus, should you accept my words only after testing them, and not merely out of respect for me.' Consistent with this instruction, the Nalanda masters examined the Buddha's teachings and categorized some as definitive, while others were qualified as needing interpretation.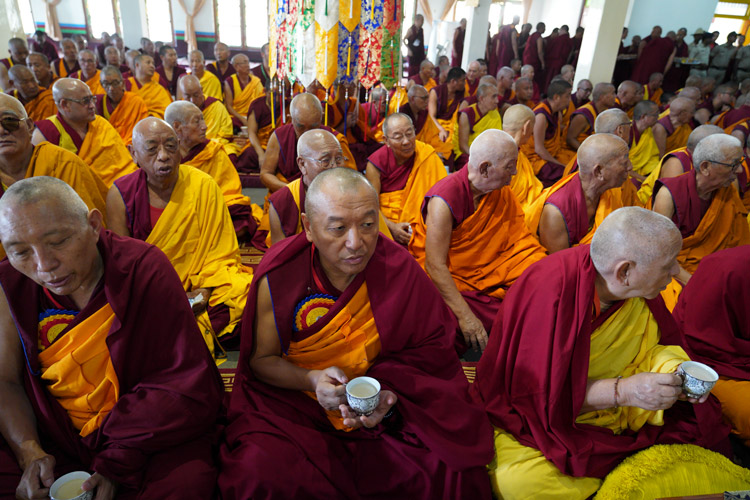 "My intention, while I'm here, is to witness your debates. I'd like you to debate solely on the basis of reason and logic, without relying on scriptural citation, which has the effect of diluting the argument. I look forward to hearing you debate the Middle Way View, the Perfection of Wisdom and logic.
"When we're able to understand how afflictive emotions are grounded in ignorance, we'll be able to appreciate what cessation means. The practice of exchanging self with others is an effective technique for countering such destructive emotions. Studying 'Entering into the Middle Way' shows how to eliminate the misconception of independent existence. Consider dependent arising and remember that Jé Rinpoché wrote:
Appearances refute the extreme of existence,
Emptiness refutes the extreme of nonexistence;
When you understand the arising of cause and effect from the viewpoint of emptiness,
You are not captivated by either extreme view."
His Holiness drove the short distance to Drepung Gomang Monastery, where he was again accorded a formal welcome. Addressing the assembly, he told them he had nothing much to say. However, one of the distinguishing features of Gomang is its historical connection with Mongolians and ethnically Mongolian people from the Russian republics of Buryatia, Tuva and Kalmykia. In the past, he noted, there were many erudite scholars from these regions studying in Tibet. In the 20th century, Buddhism declined somewhat in these places, but recently there has been a renewal of interest in Tibetan Buddhism of the Nalanda Tradition.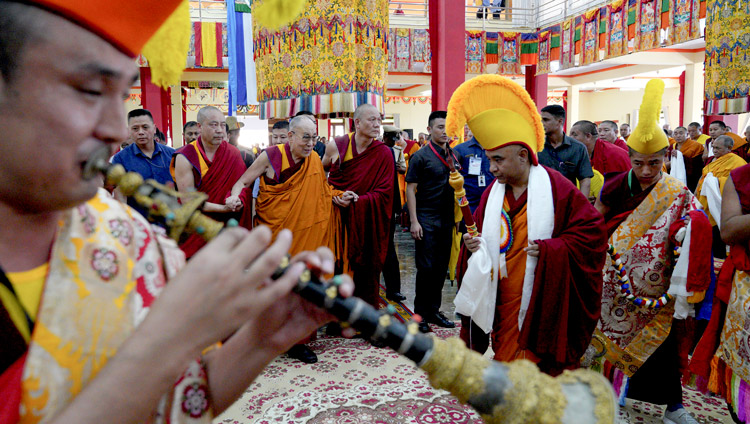 His Holiness described the 300 ethnic Mongolians studying here now as like the seeds of a new crop of scholars who will revive Buddhism at home. He indicated that Gomang has a special responsibility to support and nurture them.
With that, he retired to his quarters on the top floor of the Gomang Assembly Hall.