Address to the 2nd National Teachers' Congress
|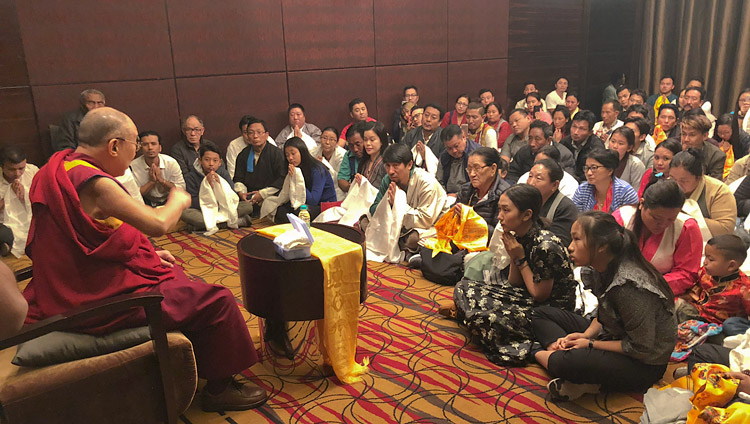 This morning, prior to leaving for the main event, His Holiness met with more than 130 members of the Tibetan community in Pune—students, shopkeepers and some professionals. In his talk to them he touched on the need to study Tibetan. He explained that Tibetan is the language in which Buddhism, particularly of the Nalanda Tradition, can be explained most accurately. He brought them up to date on the political situation with regard to Tibet stressing that things are changing in China. He assured them that he remains hopeful things will change for the better.
At the campus of MAEER MIT World Peace University, His Holiness was ushered into the main marquee for the inauguration of the 2nd National Teacher's Congress. After a classical dance performance and the screening of a short film on what had been achieved at the 1st National Teacher's Conference, His Holiness and other guests were invited to ring an education bell before taking their seats on the stage.
After a short welcome speech by Mukta Tilak the Mayor of Pune, Rahul Karad, the Executive President of MAEER MIT World Peace University, and main organizer of the Congress, welcomed teachers from all over India, and several from abroad, who had come to take part. Dr. Anil Kakodkar, Founding Patron of the National Teacher's Congress and an eminent Indian scientist offered remarks on education.
His Holiness began his address by emphasizing the need for compassion in today's increasingly troubled world. Many of the man-made problems we face, he said, are due to an emotional crisis that we see taking place across the world. He pointed out that medical scientists have observed that anger is clearly detrimental for our health and well-being.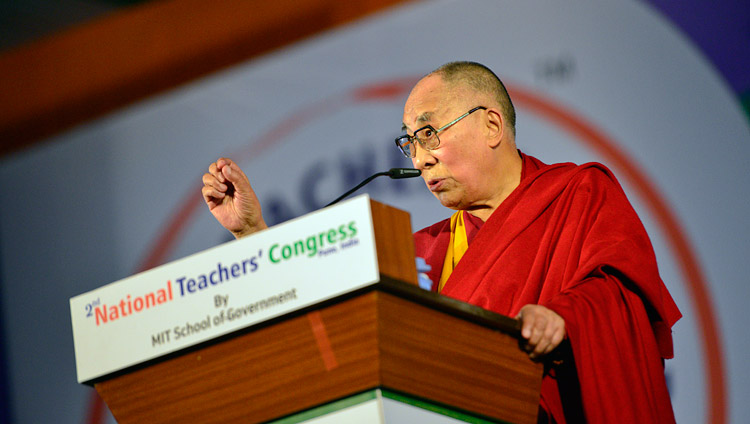 "Constant anger actually eats into our immune system. Compassion acts as a positive counter force to that. Common sense tells us that compassion is important. Even animals show each other affection and compassion and they are capable of responding if we show them an angry face. We regard neighbours who are honest, compassionate and sincere with affection and respect, even if they are not well off. We feel it's a pleasure to meet them. On the other hand, if our neighbours are powerful and wealthy, but never greet us with a smile, we'd prefer not to see them. That's human nature."
His Holiness remarked that when what we think of as modern education began to emerge in the West, moral values were still the province of the church. Nowadays, modern education focuses primarily on physical development and material goals, while the influence of the church has declined. Consequently, ethics are neglected.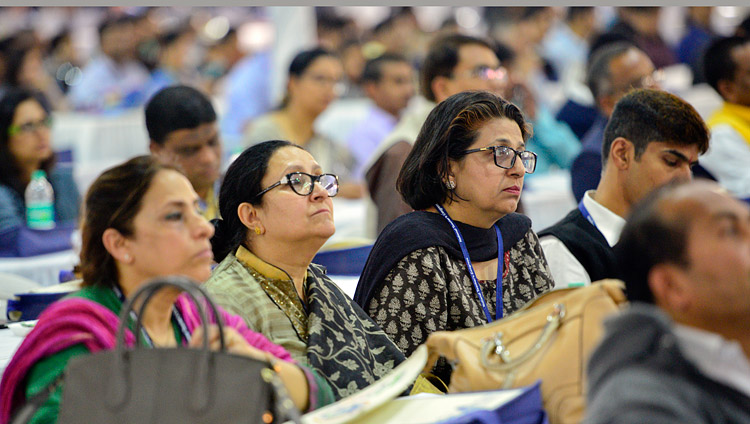 "Modern education pays little attention to inner values and yet our basic human nature is compassionate. We need to incorporate compassion and warm-heartedness into the modern education system to make it more holistic. Much of the turmoil we witness across the world is because people are overwhelmed by disturbing emotions that they have no idea how to tackle. I believe that the rich understanding of the workings of the mind and emotions that we find in ancient Indian traditions remains relevant today. There would be great value in examining this and applying it, not from a religious point of view, but from an academic and practical standpoint."
As the inaugural ceremony came to an end, His Holiness was invited to present the Jeevan Gaurav Puraskar Awards to four people who have made an outstanding contribution to education.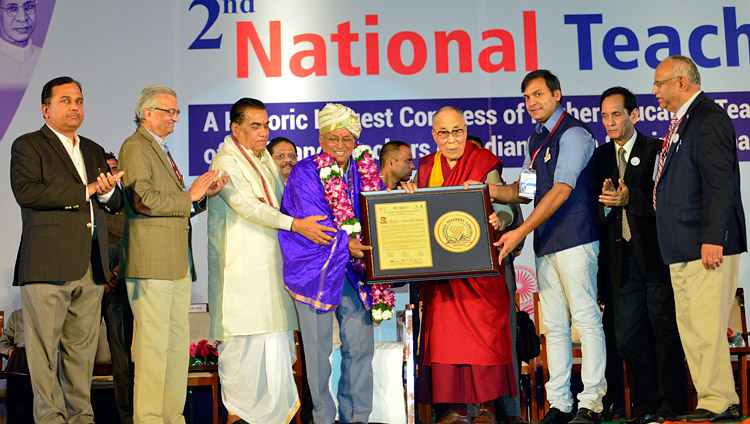 His Holiness then drove straight to Pune Airport from where he flew directly to Gaya, arriving back in Bodhgaya at the end of the afternoon.
Source: https://www.dalailama.com/news/2018/address-to-the-2nd-national-teachers-congress